Luxe Cookies Are Here!
November 03, 2022
We are excited to announce the launch of our new stuffed cookie assortments!
Our stuffed cookies are packed with delicious flavors like Apple, S'more's, Cinnamon Roll, peanut butter, cookie butter, and more. We've worked hard to create four new stuffed cookie assortments and each assortment is filled with four different flavors to bring you the best flavor variety in each box.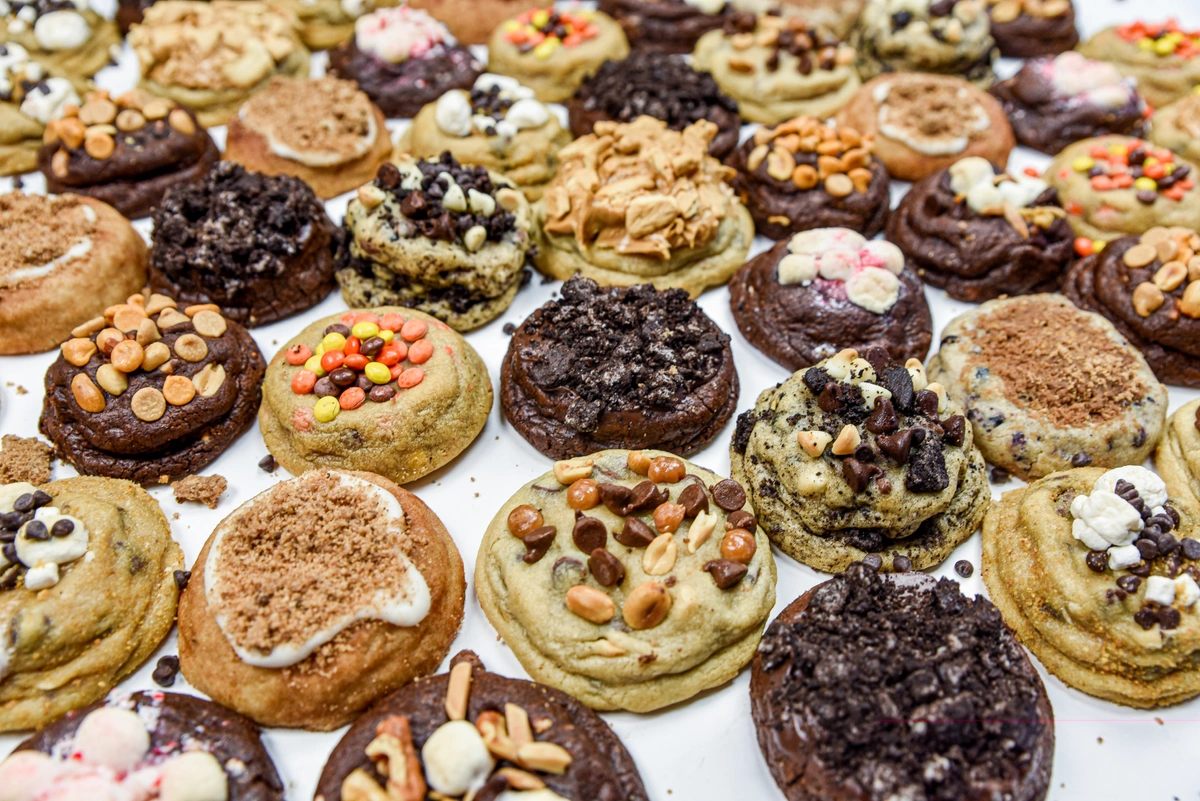 Stuffed Cookies
Stuffed cookies are giant cookies stuffed with flavorful fillings and topped with delicious additions like frostings, candy, nuts, sprinkles, and more!
The stuffed cookie craze has come to Noms with cookies packed with all your favorite flavors.
Check out our new assortments!
The All-American
Looking for all the classic American flavors? The All-American assortment will bring you back to homemade apple pies, S'mores by the campfire, or freshly baked cinnamon rolls in the morning.
Girl Next Door
This delectable stuffed cookie is filled with apple pie filling and the soft, pie crust-like cookie is perfectly topped with a crumble streusel. Perfect if you are looking for a classic dessert without all the work.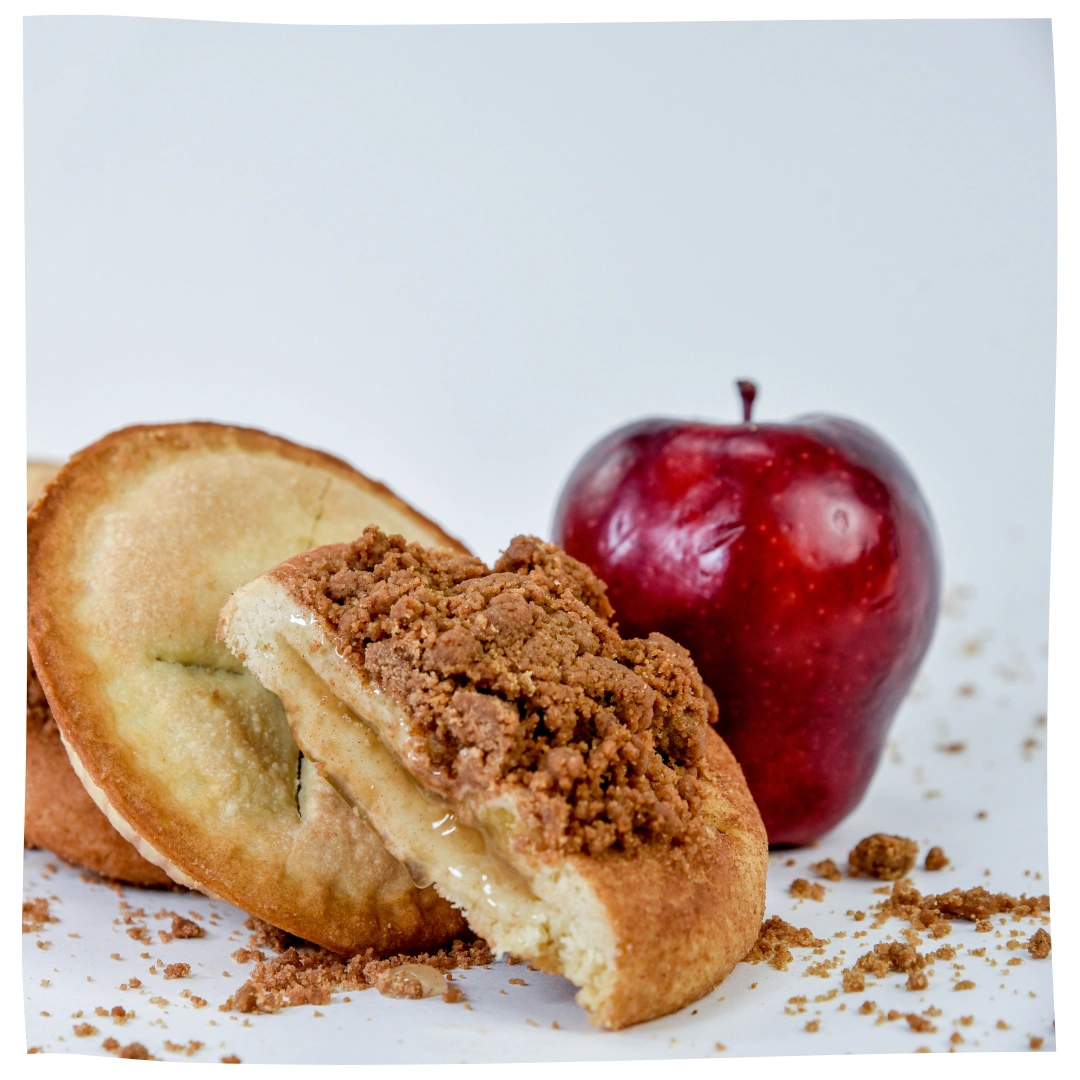 Side Chick
A cookie or slice of pie? It will be hard to tell. Our stuffed blueberry pie cookie is a real deal. It's packed with blueberries, blueberry pie filling, and crumble streusel wrapped up in a soft, flaky cookie crust.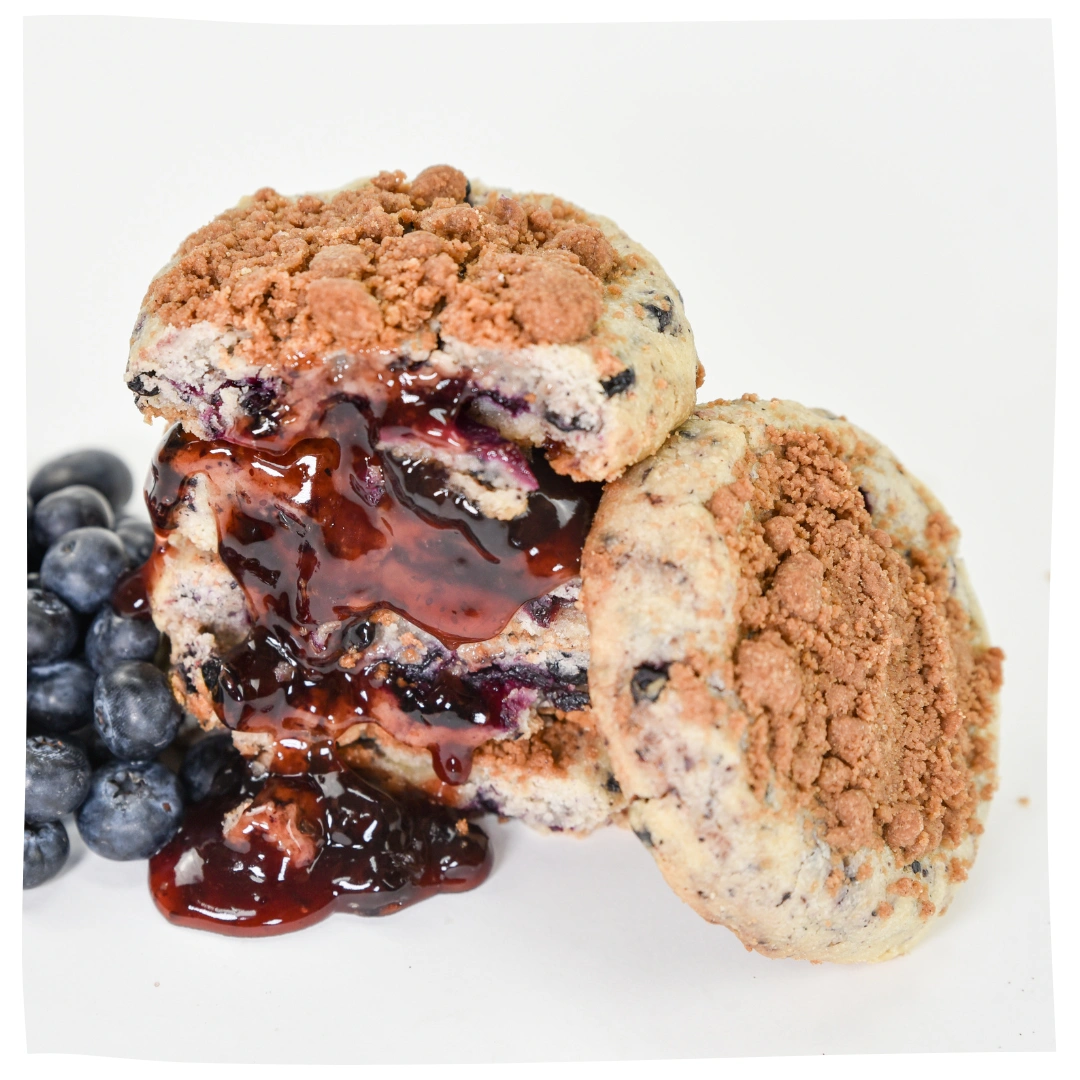 Campfire Fling
There's nothing quite like sitting around a campfire, toasting marshmallows, and making s'mores. But let's be honest, the whole process can be pretty messy so we created our new stuffed s'mores cookie. It's packed with all the flavor of the classic campfire treat, the chocolate is melted and gooey, the marshmallows are fluffy, and the graham cracker cookie is crisp and crunchy. All the classic treat flavors in one delicious cookie!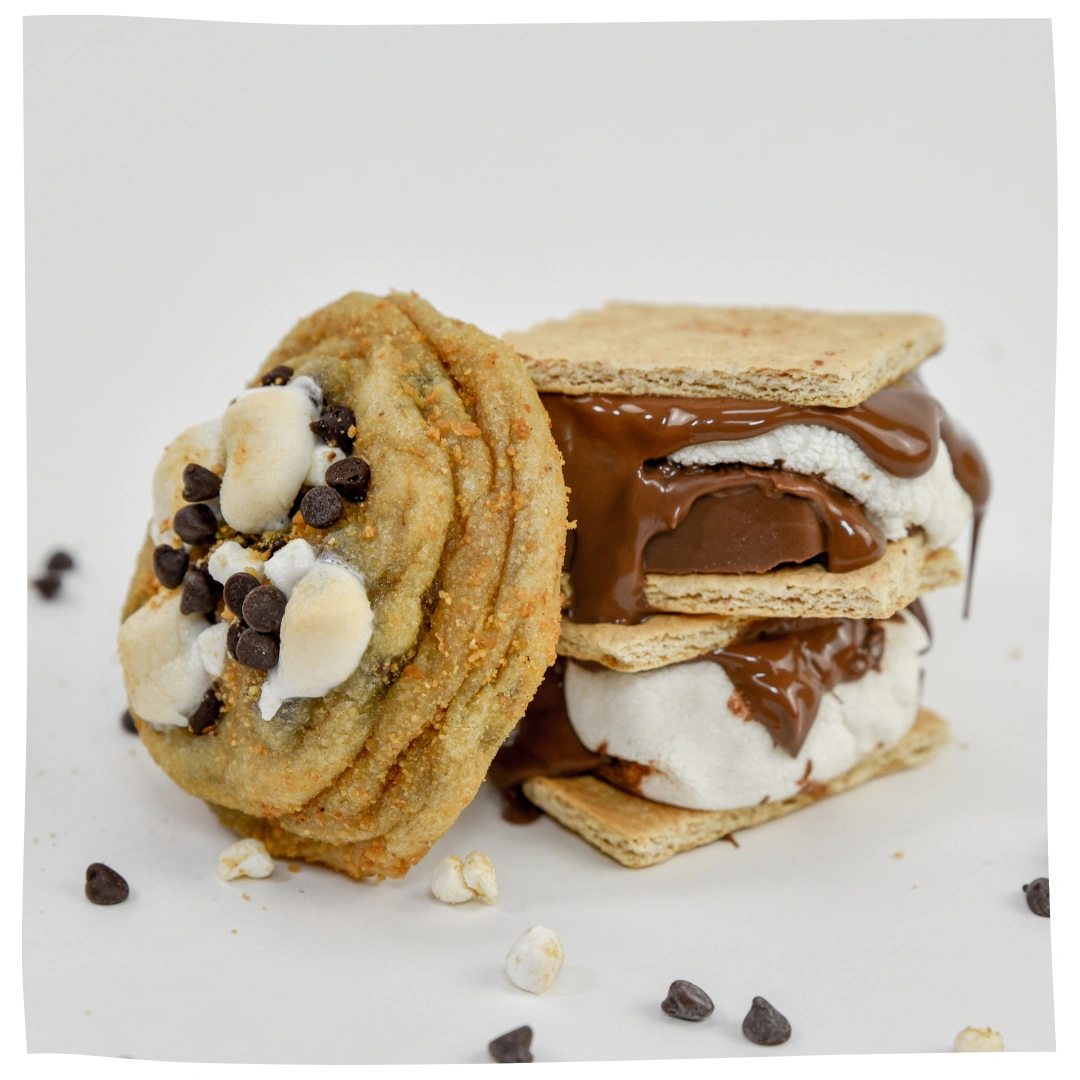 Mall Rat
Move over, cinnamon rolls! There's a new breakfast treat in town! Introducing our cinnamon roll stuffed cookie! The Mall Rat features a cinnamon cookie topped with classic icing and a cinnamon streusel. All the flavors of that mall cinnamon roll packed into a cookie and delivered to your doorstep!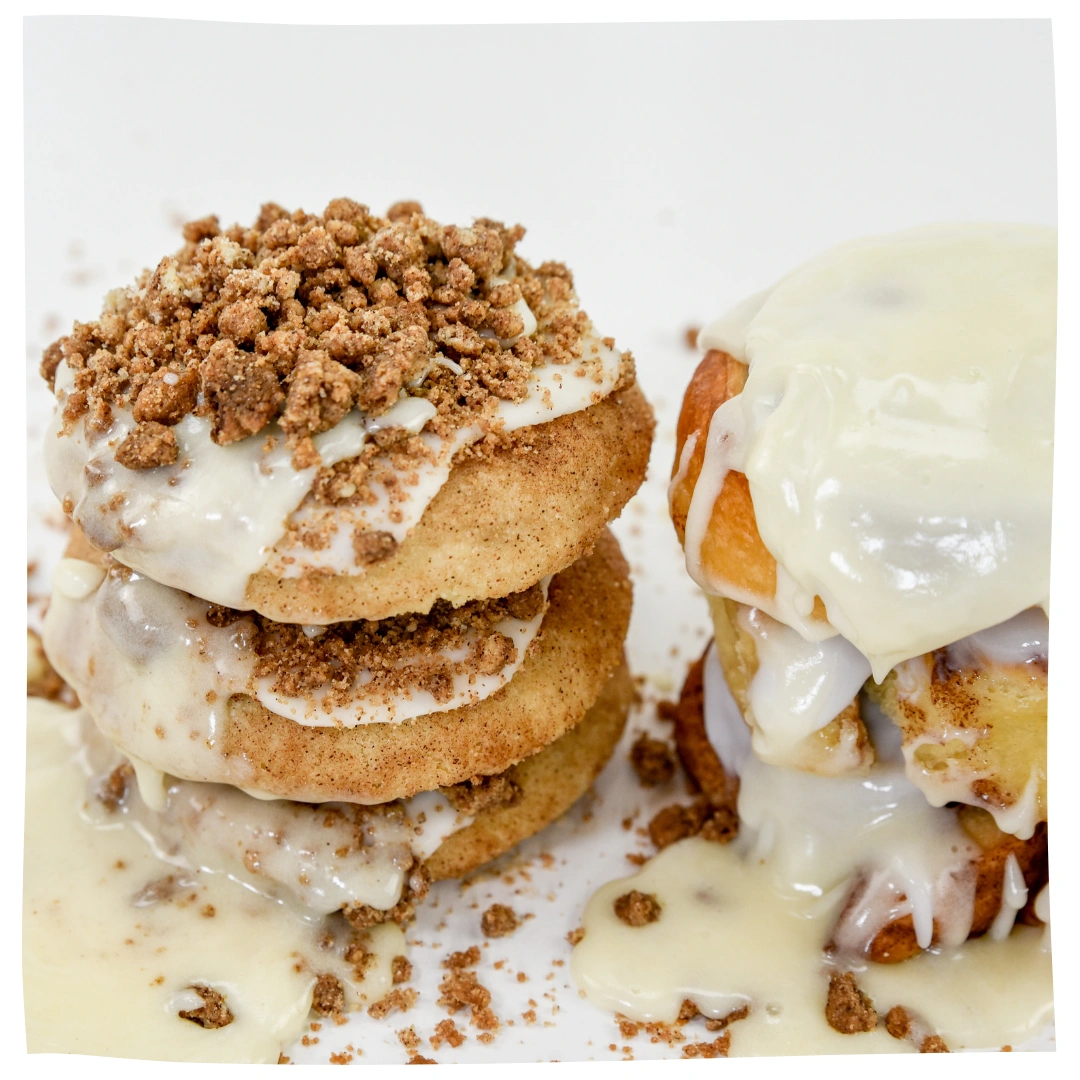 The Walk of Fame
Double Agent
Move over plain chocolate chip cookies, there's a new stuffed cookie in town. With double the chocolate and stuffed with an Oreo, the Double Agent stuffed cookie is perfect for any chocoholic! A sweet tooth satisfier, any chocolate lover will need the Double Agent cookie in their life.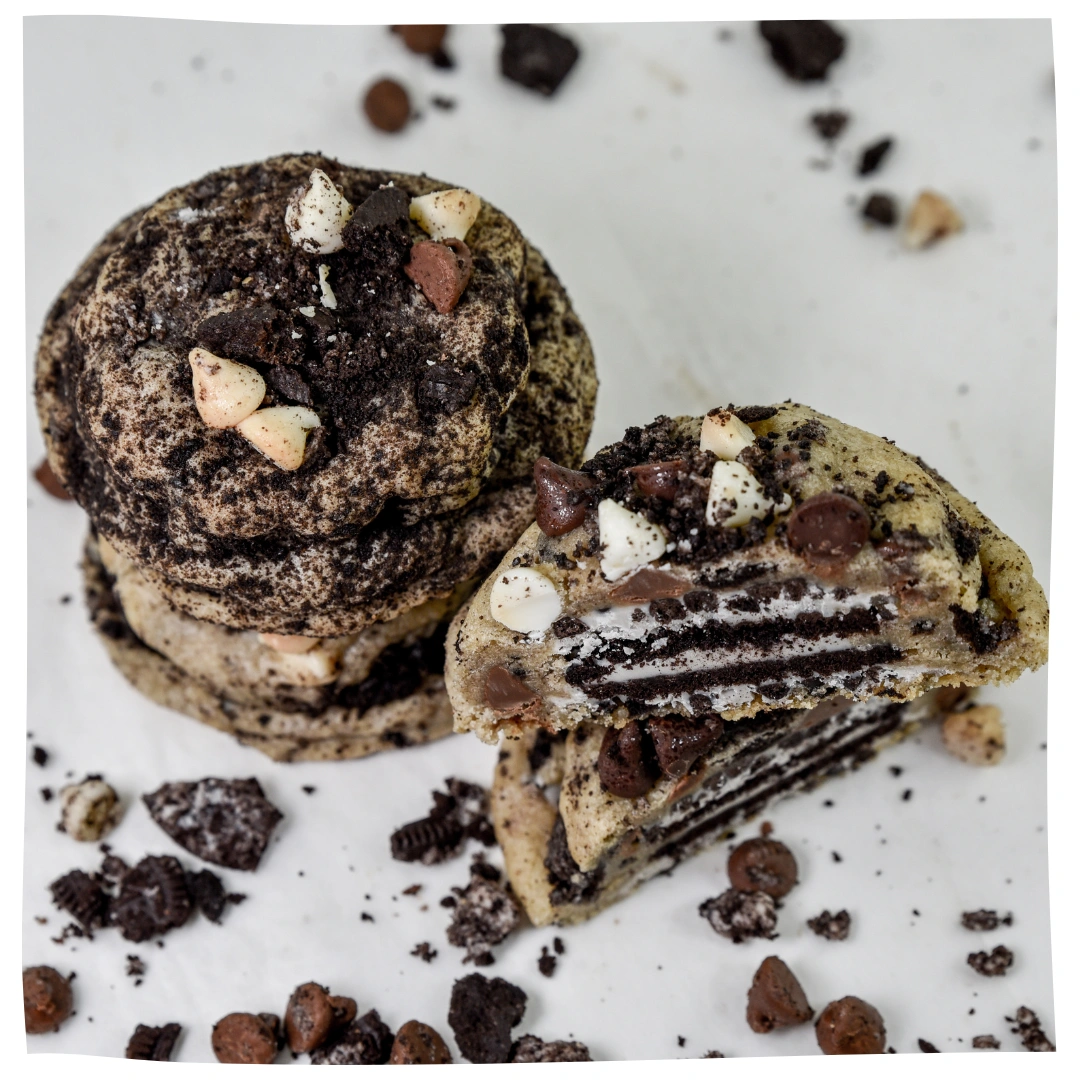 Distinguished Gentleman
Cookie butter fans, rejoice! Your favorite spreadable cookie goodness is now available in cookie form. The Double Agent is stuffed with creamy cookie butter and topped with crumble and animal crackers, this dreamy concoction is sure to satisfy your sweet tooth. The best part? The perfect balance of crunchy and soft makes it impossible to resist. So go ahead and indulge— your taste buds will thank you!

Rockstar
Our all-new rocky road stuffed cookies are here, and they're ready to rock your taste buds! Packed with a chocolate filling, and topped with marshmallows and walnuts, these cookies are the perfect blend of sweet and salty, crunchy and soft. If you're looking for a delicious way to spread the love, look no further - our rocky road stuffed cookies are sure to please.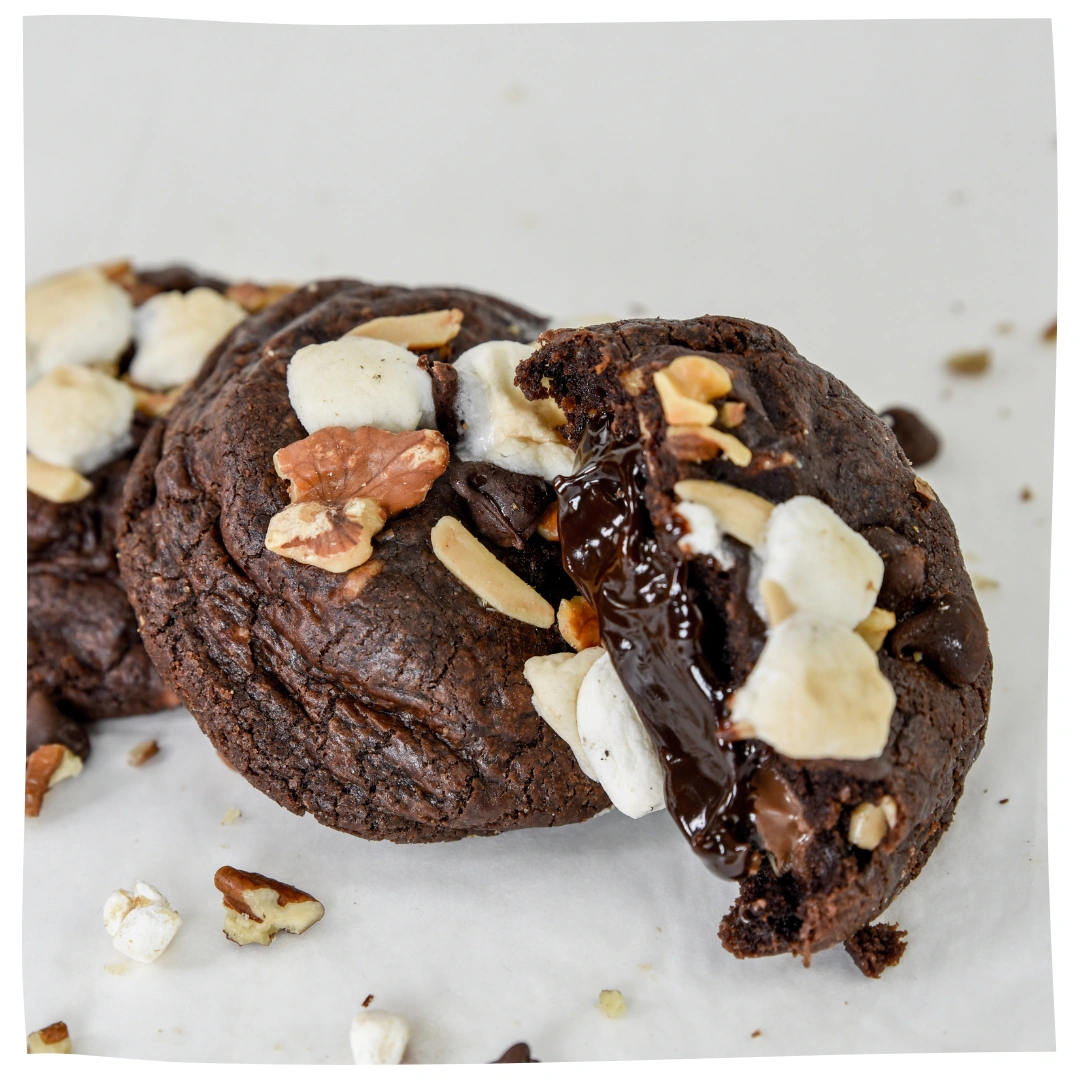 A-Lister
A peanut butter explosion in stuffed cookie form! The A-Lister is the cookie we're all drooling over. Packed with peanut butter filling in a peanut butter cookie, the A-Lister is then topped with Reese's Pieces creating a peanut butter explosion. If you're a fan of peanut butter, this is the cookie for you. Be warned, though, once you've had one, you'll be hooked!
The In-Crowd
Gossip Guru
The Guru Gossip stuffed cookie is our delicious nod to the dirt cups we used to beg our parents for when we were young. Crushed Oreo toppings, chocolate cookies and a milk chocolate center come together to create a fun and indulgent treat that will bring you right back to your childhood days.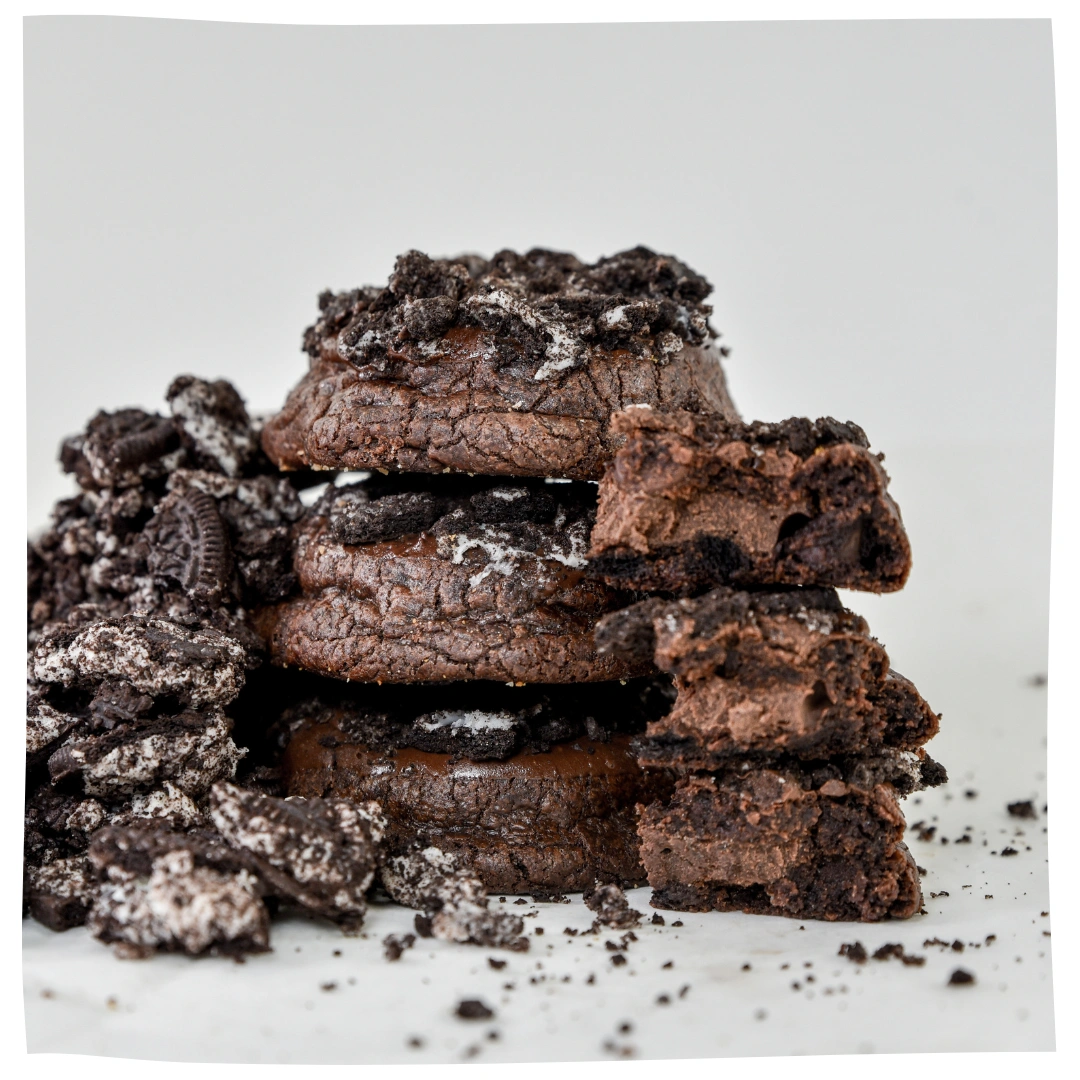 Knockout
We've taken the classic Scotcharoo flavor and turned it into a stuffed cookie form with The Knockout! These stuffed cookies have a chocolate cookie base with a creamy peanut butter filling and are topped with chopped peanuts for an extra crunch. They're perfect for satisfying your sweet tooth, and they're sure to be a hit with kids and adults alike. Want something that's guaranteed to please? The Knockout is the way to go!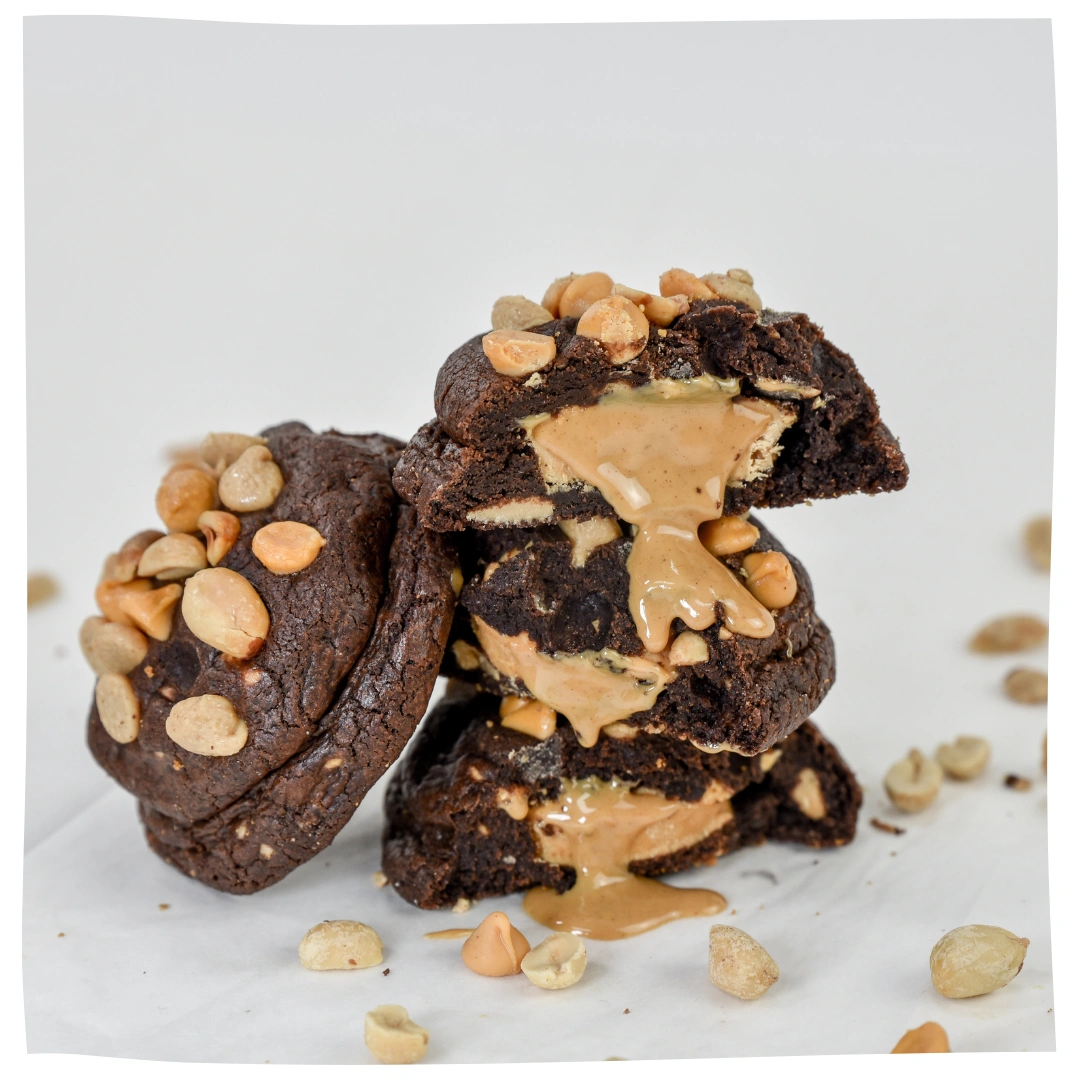 The Quarterback
The Quarterback stuffed cookie is a rich peanut butter cookie stuffed with gooey caramel, peanuts, and chocolate bringing your favorite candy bar into one amazing cookie. The perfect cookie if you need a pick-me-up or are craving something sweet. But don't take our word for it, try one for yourself and see!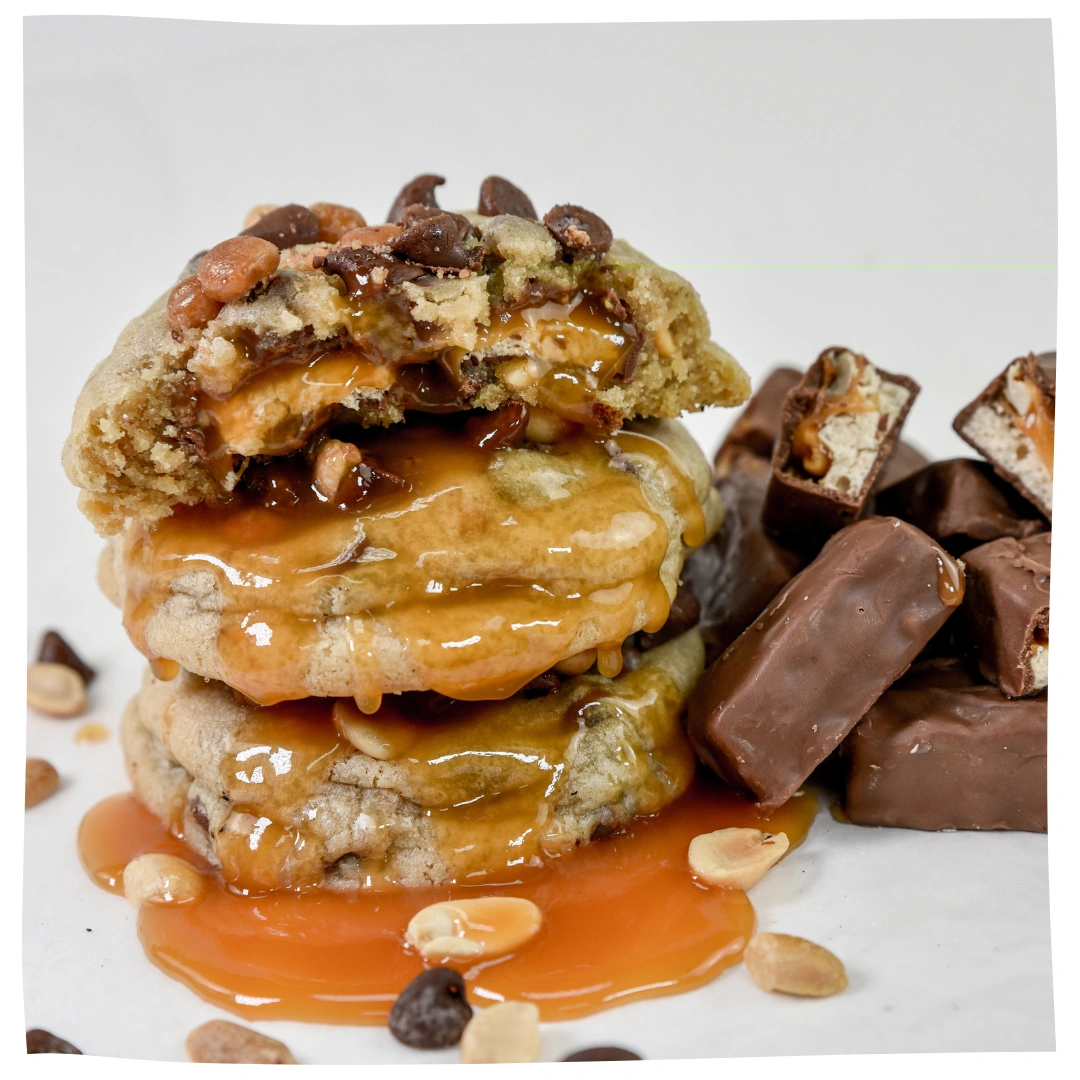 Mall Rat
The Mall Rat is a fan favorite and just like those pesky cinnamon rolls that you can't stand to walk past, we couldn't pass up the opportunity to add this cookie to the In-Crowd Assortment. Satisfy your cravings with a stuffed cinnamon roll cookie delivered right to your doorstep.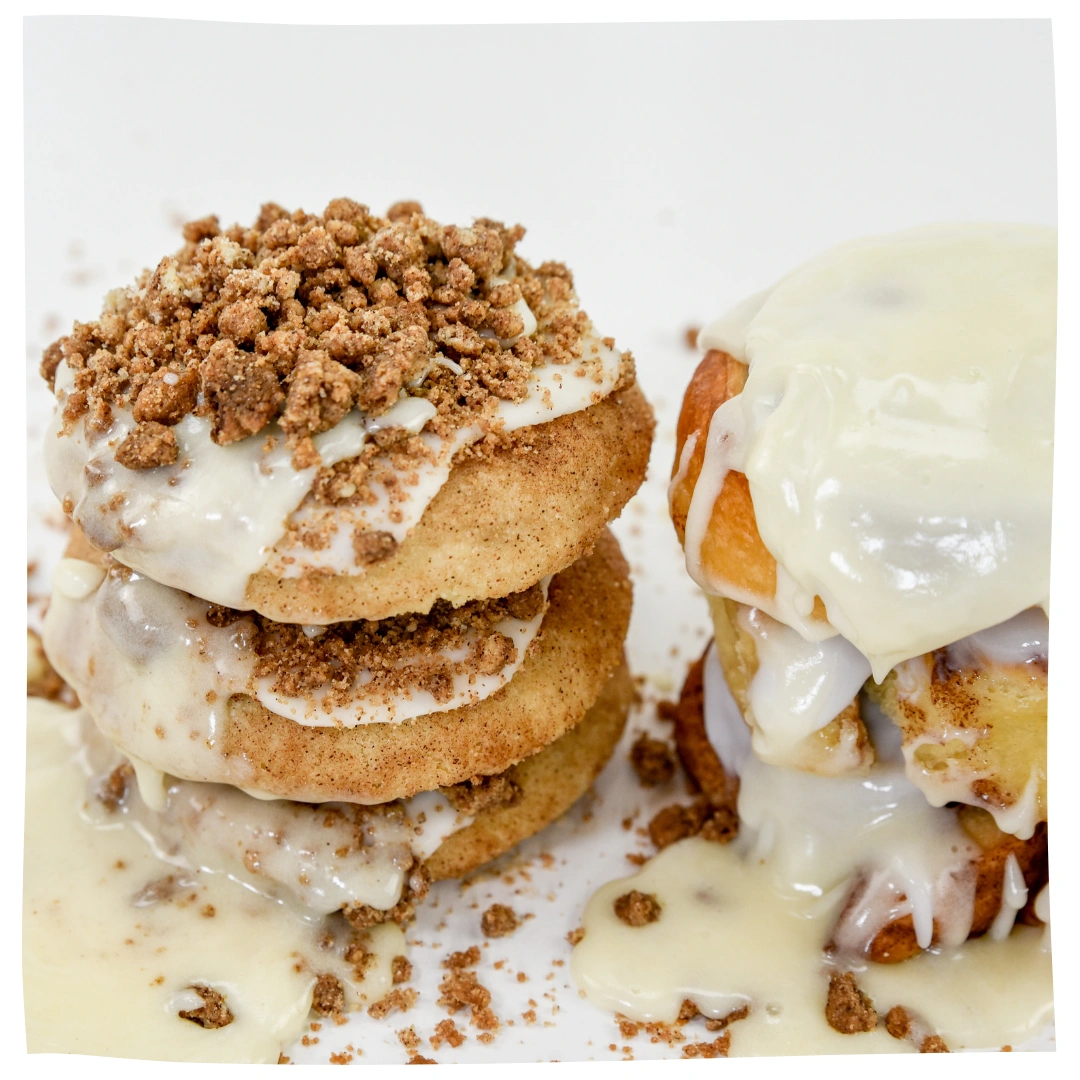 The Festive
Sleigh, Queen
Whether it's a cold winter month pick-me-up or you are craving chilly weather, the Sleigh, Queen stuffed cookie is everything you could hope for in a holiday cookie. A peppermint-filled chocolate cookie that is topped with crushed peppermint and marshmallows, you get the best of winter flavors any time of the year!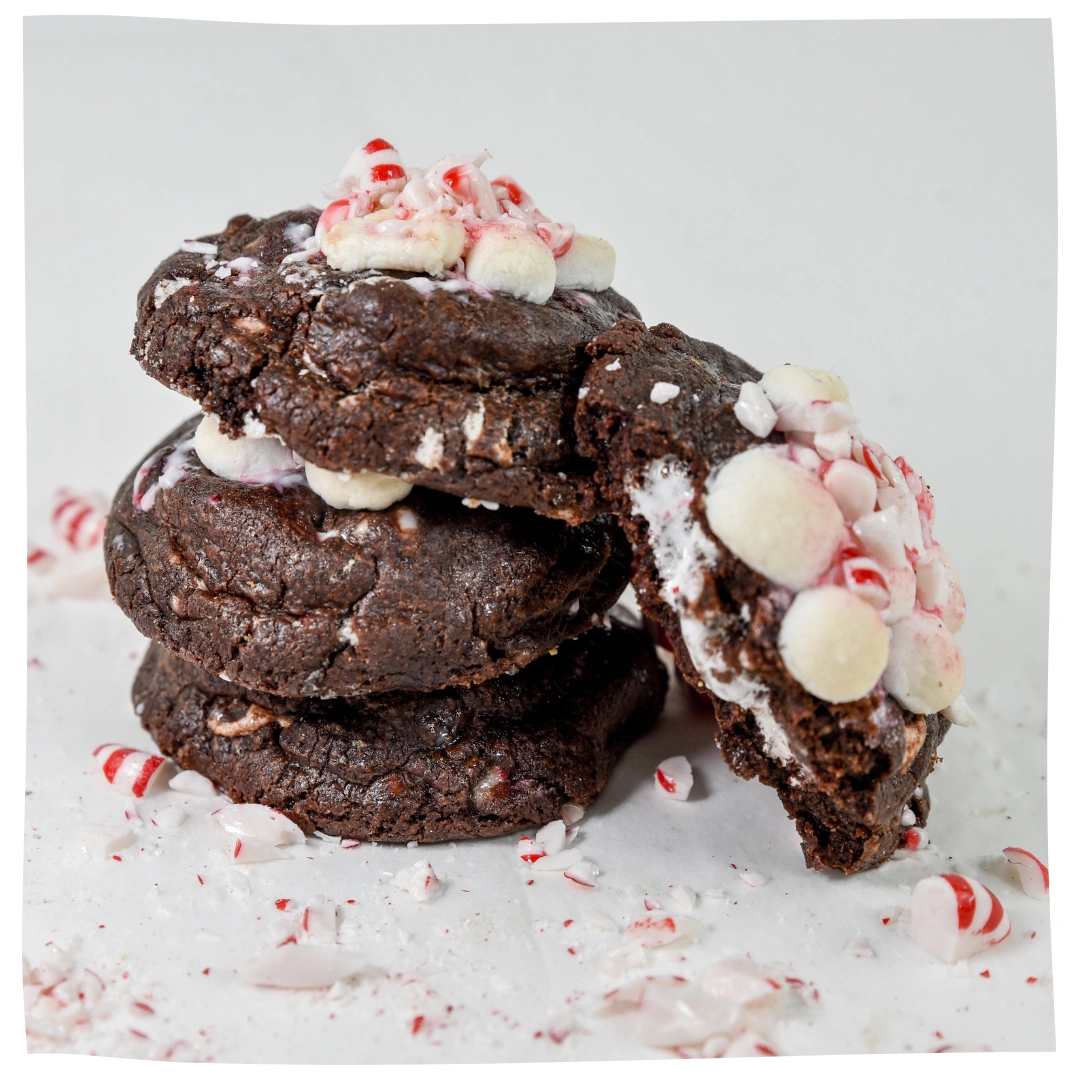 Girl Next Door
It doesn't matter what season it is, most of us are dreaming about apple picking in fall and cooler days. Bring that feeling to you any time with this apple pie cookie! This stuffed cookie is better than a slice of pie with its perfect apple filling wrapped in a soft, pie crust cookie. All topped with streusel to make each bite more perfect than the last.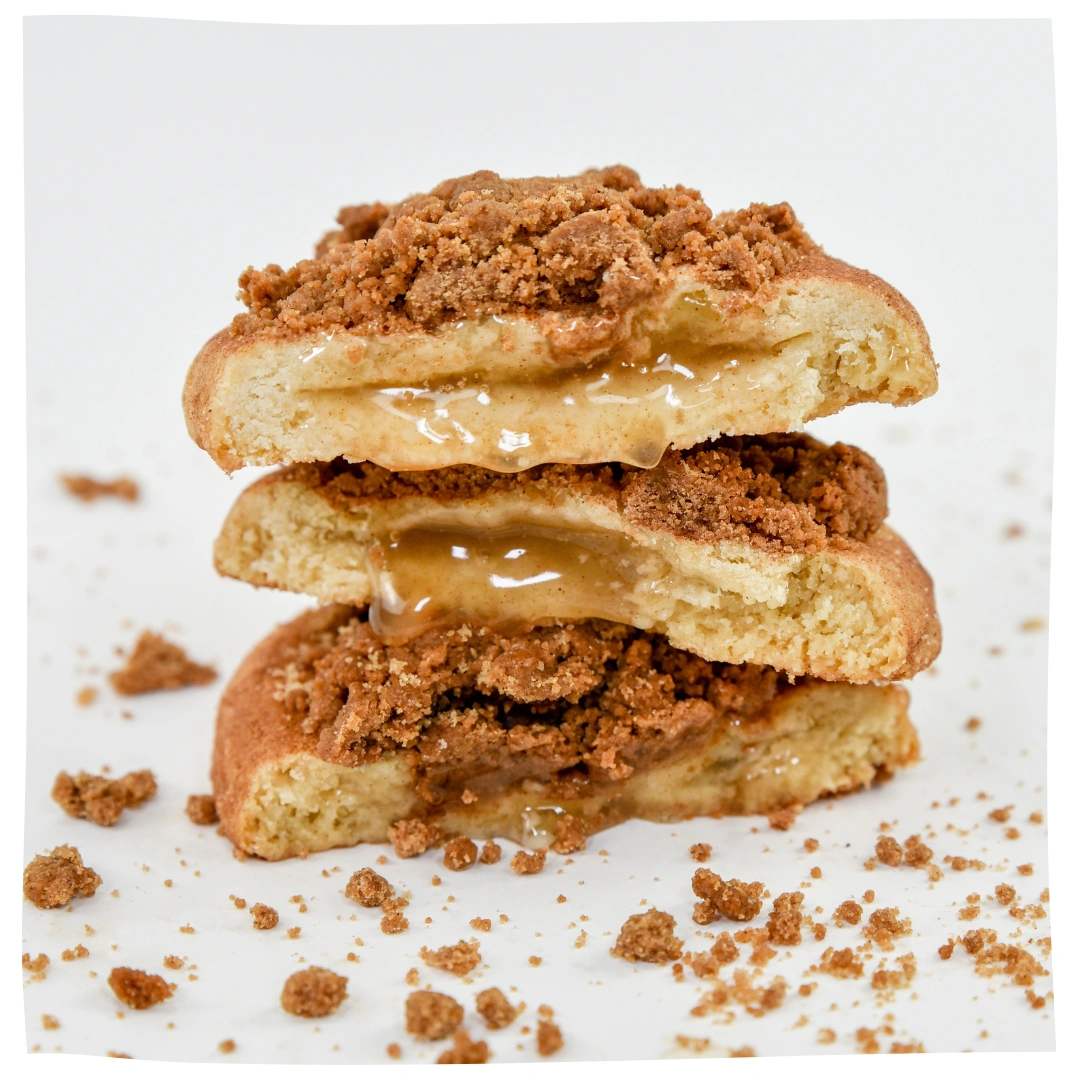 Campfire Fling
Even in the middle of winter, many of us are ready for summer nights around the campfire. Celebrate those warm, summer nights any time of the year with the Campfire Fling stuffed cookie.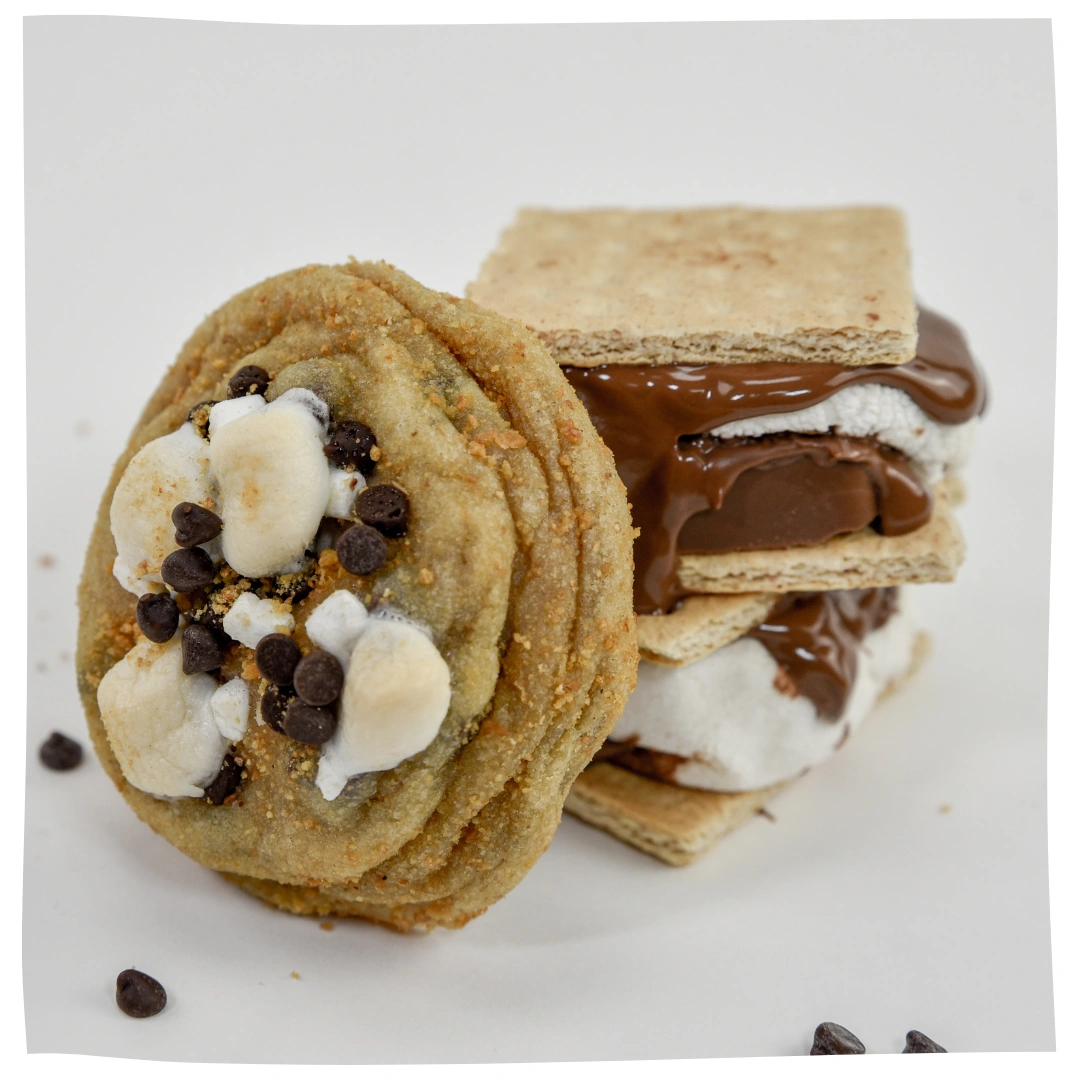 The Knockout
So good we had to add it twice. The Knockout is just that, a knockout of flavors. A chocolate cookie with a creamy peanut butter filling, you'll be craving this stuffed cookie year round!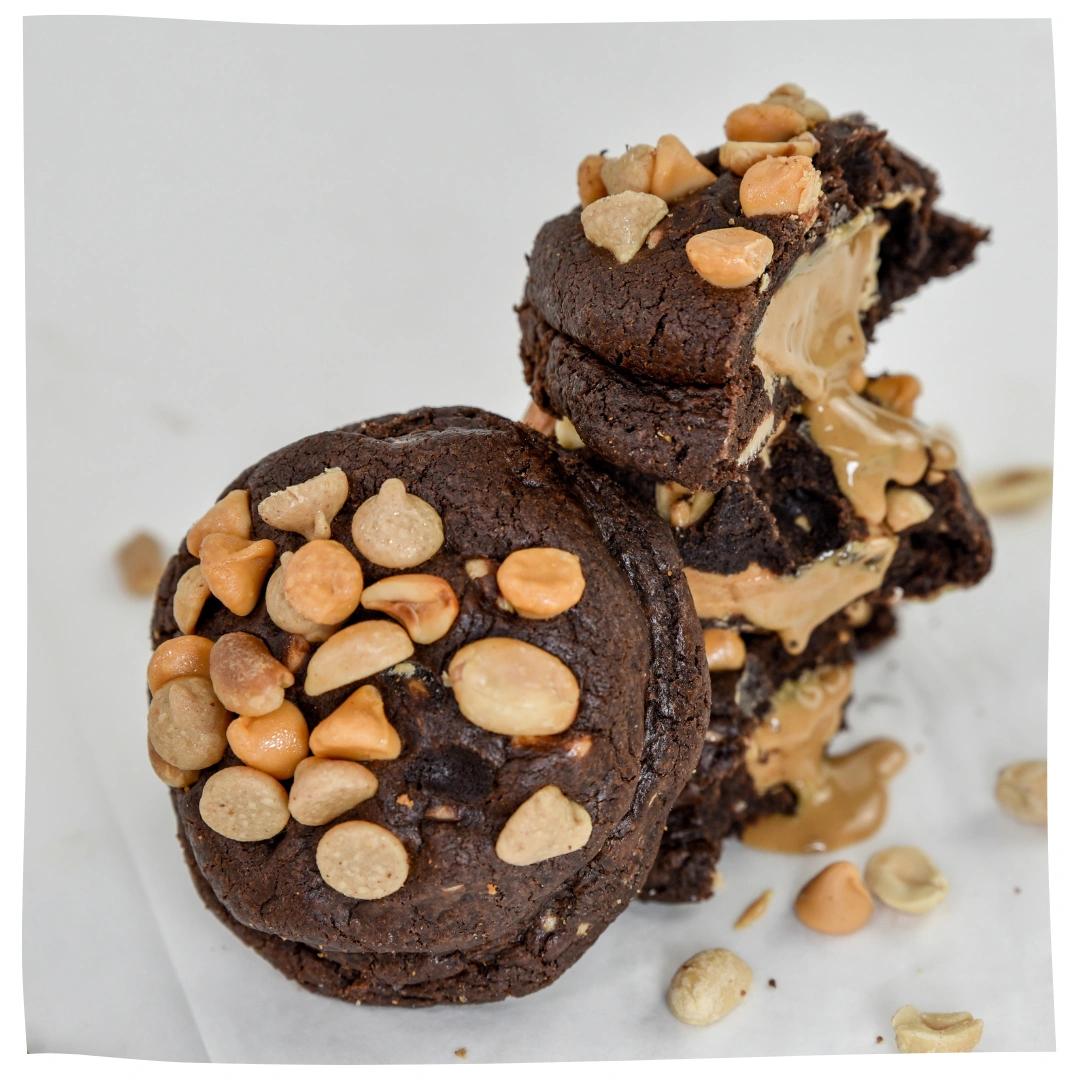 Order Yours Today!
With Noms, you can always customize your laser-engraved wooden crates or full-color sleeves to make each box more thoughtful and unique. No matter what stuffed cookie assortment you choose, you can't go wrong. Order your cookies today and get them delivered straight to your door(or email). We know you'll love them as much as we do!
The Best Gifts Are Personalized!
Get Into the Halloween Spirit With Spooky Custom Boxes!