Did You Know? QR Code Edition
September 01, 2022
QR codes are a simple, easy-to-use way to connect with customers. They provide instant access to information, adding convenience and accessibility to your brand. But did you know that QR codes can help your business grow? With new ways to market and connect with your clients or prospective clients, you can get ahead of competitors and stay top of mind all year round. Noms boxes can be used for marketing, sales, and customer service through personalized QR codes.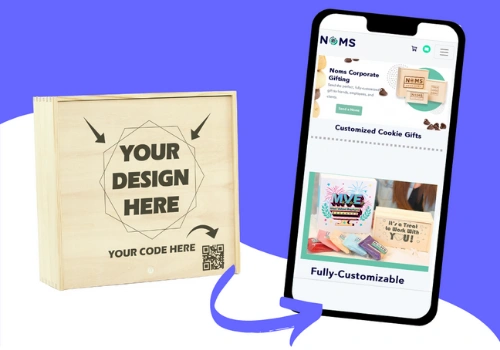 Build (and Foster) A Relationship
QR codes are a unique marketing opportunity that can help your business be more creative and meet the needs of your customers. With Noms, you can create custom landing pages that are linked to your QR codes that add more sales and story touchpoints for your customers. From receiving the gift to scanning the code, they will be moving through your sales funnel and growing a relationship with you.
Creating strong relationships with current and potential clients is also beneficial to your long-term business goals. When you have a stronger relationship you create more engaged clients, fully engaged clients bring in 51% higher revenue and sales while also spending over 23% more on average.
Offering personalized gifts and experiences for your current clients fosters the relationship you have already built and grows trust in you and your company for potential clients.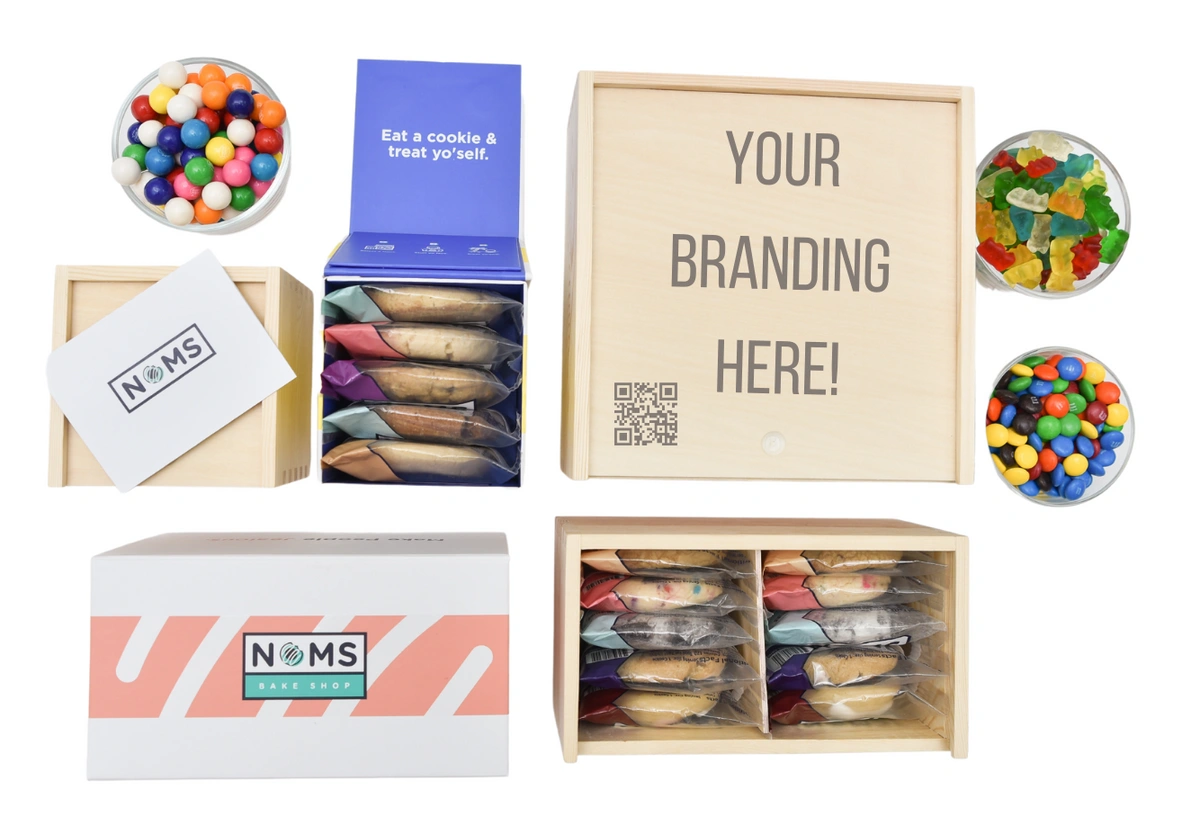 Creating a Custom Experience
QR codes can be customized for any occasion, making it a unique marketing opportunity that can put you ahead of competitors.
These codes are becoming more popular among businesses to add to printed material, business cards, or packaging. They are an easy way to promote your brand and add value for your clients by offering them access to learn more about your products or services on their own time.
With Noms, you create an experience for each recipient from the moment the gift is in their hands. From custom boxes to delicious treats, they will already feel the Endowment effect. The Endowment effect is an emotional reaction that makes a person feel that an object, or person, has high value. According to a study on gift giving and the creation of trust, it was found that gift-giving is a vital first step of trust and the creation of repeat exchanges. This sheds light on why gift-giving is important along with giving an insight into why personalized gifts can cause such a strong reaction for recipients. With a QR code, you are able to build on these feelings and encourage more interaction by scanning your code.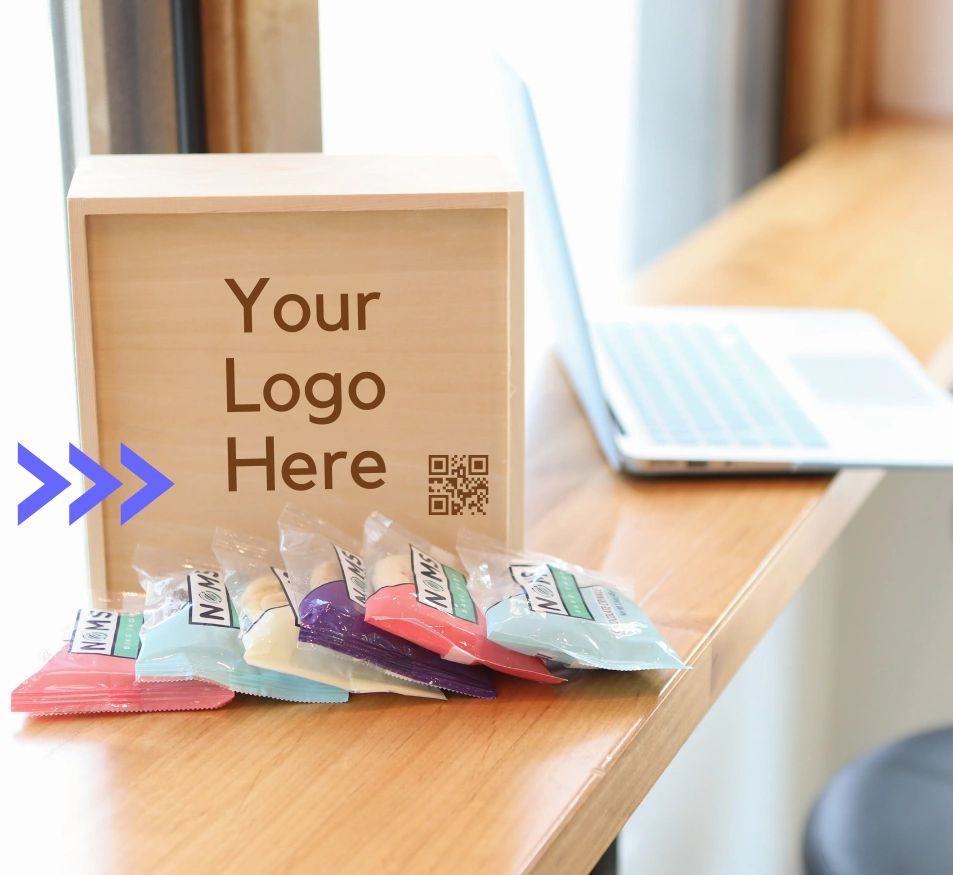 With easy customizations and delicious snack assortments, Noms makes connecting with employees, clients, or potential clients quick and easy while still delivering high-quality, tasty treats!
QR codes can be used as a great way for companies to promote their products and services, but they can also be used as a tool for you and your team members to connect with customers in an authentic way. By including a personal message on your business card or in other marketing materials, it lets potential customers know that there are people behind the brand who care about what they do and how they serve others.
With QR codes you can add personalized messages, including videos, that will better help you connect with current clients and assure them that you're there when they need you. With custom landing pages, you can even create a new page for each client you work with if needed.
Noms will also help you create a landing page, or pages, to help you better reach each and every client on your list.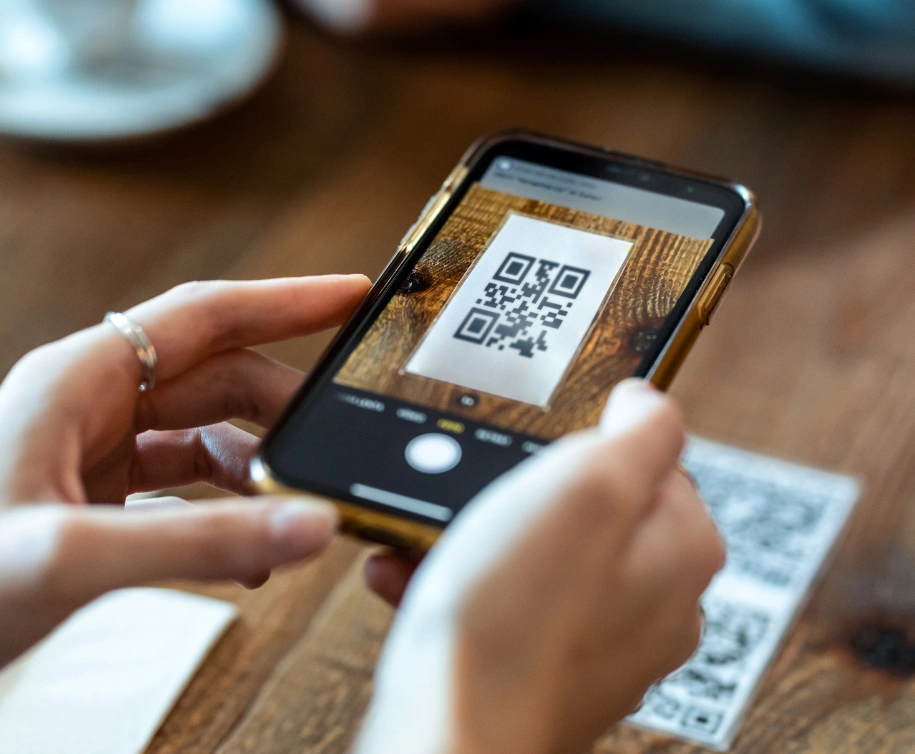 Using Your QR Codes
The most beneficial part of custom gifts with QR codes is that each linked landing page can be customized for any product, service, or event. When going to events or conferences, every one of us is looking for a gift to hand out that will catch attention and gain new connections. Custom gifts with your logo and QR codes create the perfect gift for any occasion. Each QR code can allow you to share promotions to further entice clients or prospective clients. They can receive a promotional box if they watch a demonstration at an event, schedule a meeting or do any other task you choose. Along with this, the landing pages can lead to more information about the conference, the products you showed off, or a form to schedule a one-on-one meeting with you. This grabs their attention and grows on the relationship you began at the event while moving them through your sales funnel in a natural and seamless way.
One of the most important aspects of using QR codes in your marketing and advertising for your business is trackability. When you have the option to track how many people visit that landing page, what they are clicking on, and of course if they are booking appointments if you are offering them. This is especially useful if you are trying to add new clients, branch out your target market or just refine your prospecting efforts.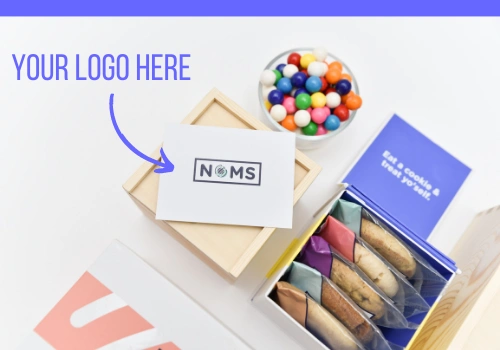 It doesn't matter what the event or occasion is, when you are trying to keep current clients happy and engaged or prospecting new clients, a gift with a QR code will be the most impactful and effective.
Missing Out
While there are many ways to promote your business and connect with clients, your business could be missing out on opportunities to reach customers without even knowing it. With QR codes becoming a more popular way to connect, not having them on your client gifts or prospecting gifts can begin to lose you business that you may have won otherwise. When you use QR codes, you have an opportunity to drive traffic back to your website and increase sales with just one scan!
There is no doubt that QR codes are a powerful way to connect with your clients and prospects. Create your customized gifts with Noms today, including a QR code and landing page, to send your clients or prospects delicious treats and a direct connection to you and your business!
Happy Labor Day Weekend From Noms!
National 'Just Because' Day is Here!