A Step-By-Step Guide To Ordering Corporate Gifts
February 24, 2022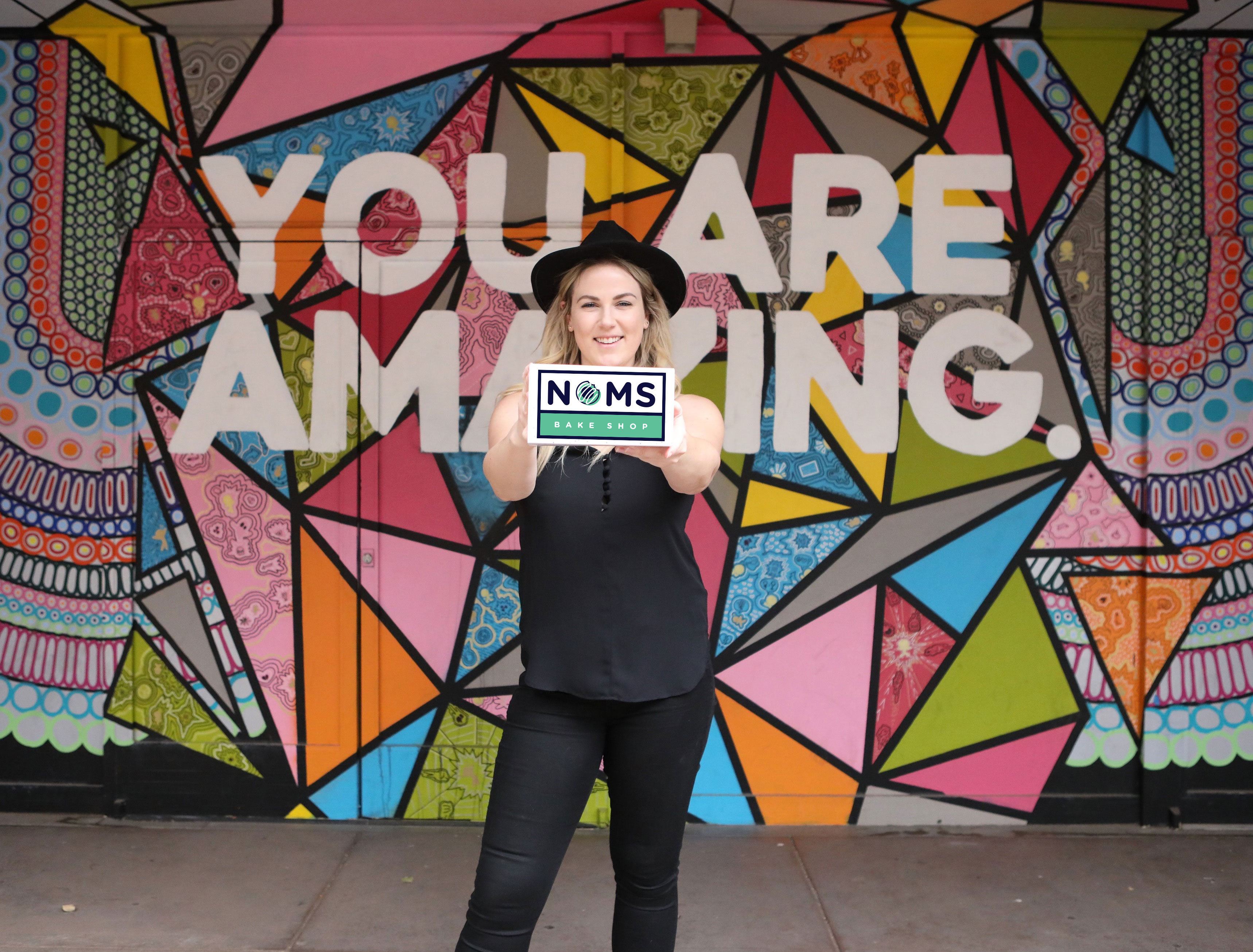 Corporate gifting can be hard. Finding a gift that works for everyone in your office or on your client list can take time and energy that many offices don't have. Noms corporate gift boxes gives you a one-stop shop for everyone on your list while making each box feel personalized and special for the recipient.
What You Need To Know Before Ordering a Bunch of Cookies Online
It sounds daunting, right? Ordering a thoughtful, corporate gift for every employee or client on your list. While it sounds like a big task, we can help you get that checked off of your to-do list in minutes with Noms cookie boxes.
We know you're busy but also want your corporate gifts to be well thought out and make each recipient feel special. Noms makes ordering for multiple people easy! A list of ten, a hundred, or a thousand can be done with ease and show up on their desk with thought and care.
The most important information you will need is a list of names, email or shipping addresses, and the personal message you want to include. Noms offers a spreadsheet template that makes uploading this information easy and hassle-free. After your recipient's information is uploaded, you can then choose their cookies.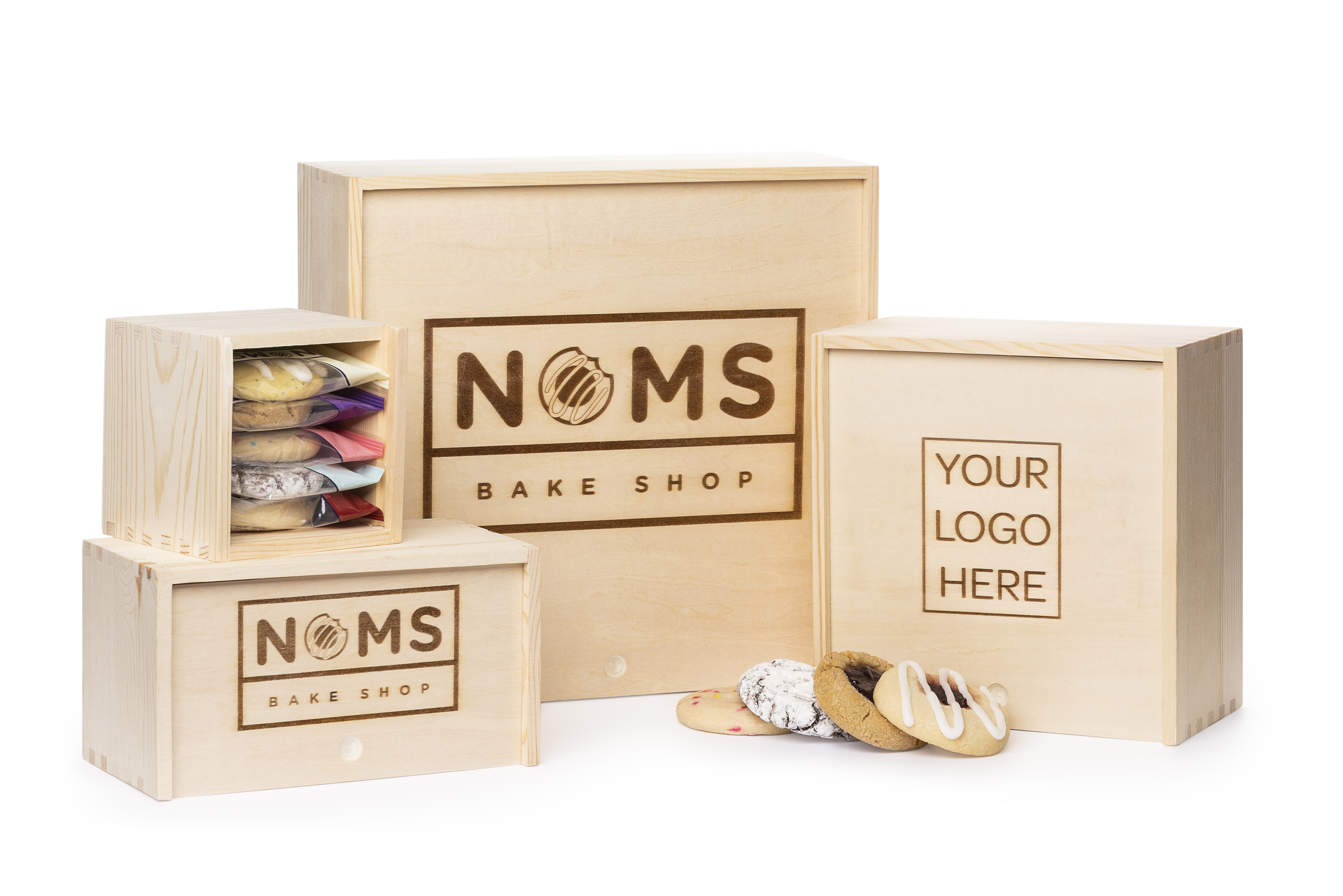 Choosing Your Cookie Assortment
Now, you get to move on to the fun part. Noms offers multiple cookie assortments that you can choose from. Make your corporate gifts stand out for each person!
Choose from our signature assortment that includes our classic flavors like Berry Shortbread, Chocolate Brownie Crinkle, Confetti Sugar, Peanut Butter & Jelly, and Chocolate Chip. Do you want something a little more festive? Know they can't get enough of their seasonal flavors? Our Holiday Spice assortment brings the festive flair to any corporate gift box. Send them flavors of Berry Shortbread, Cinnamon Pumpkin Butter, Molasses, Caramel Butter Pecan, and Snickerdoodle.
If these aren't the right fit for your corporate gift box then send them a little nostalgia with a twist with our Peanut Butter S'mores cookie. The flavor that beats those campfire cravings and brings us all back - The best part? Our Peanut Butter S'mores are gluten-free!
It doesn't matter what flavors you choose - your recipients will love our cookie gift boxes.
Choose Your Box
Your corporate gifts need to reflect you and your company. You want to impress all of your clients, potential clients, or employees when your gift lands in their hands, and our boxes are designed with that in mind.
We currently offer two options for your corporate gift boxes - wooden crates and full-color boxes.
Our laser engraved wooden boxes are a favorite for corporate gifting. Noms wooden crates bring an elevated luxury to your corporate gifts and make personalizing them easy. You can choose a design, your logo, or your clients' logo to have laser engraved and give them a gift they can keep forever along with one they can devour right away.
Noms also offer full-color boxes to choose from. These are a great option if you want colorful designs or a logo that is full of color. Noms can offer design options for celebrations, holidays, or anniversaries. Our team can help every step of the way and create the perfect box for your employee or client gifts.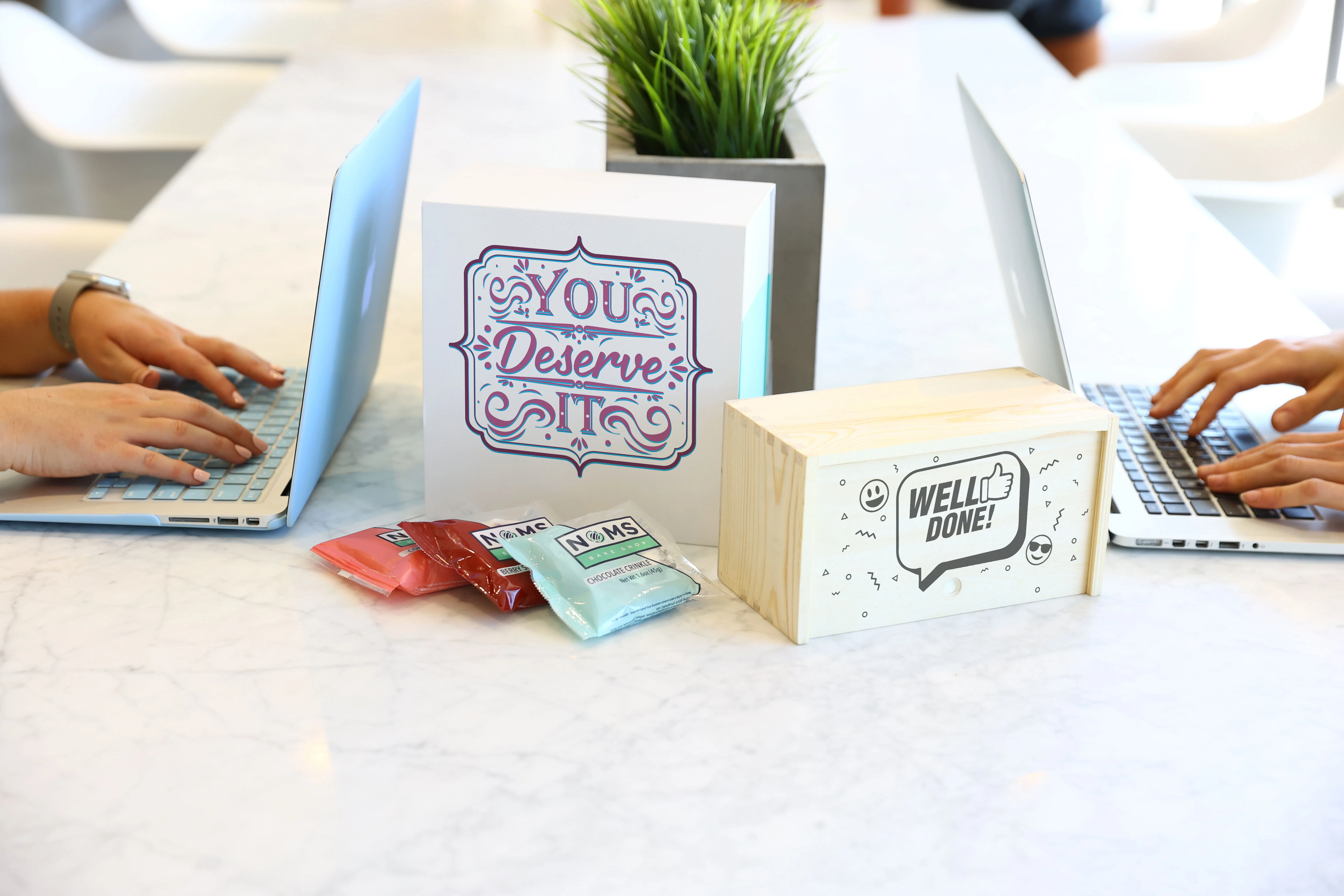 Custom Message
While the presentation of your corporate cookie boxes is important, so is what's inside. Along with a batch of delicious cookies, you can add a custom personal message!
Tell them to thank you or congratulations with your heartfelt message! It doesn't matter the holiday or occasion, you can always send the perfect gift.
QR Code
While our boxes make great client gifts or employee gifts - they make perfect prospecting gifts. Our corporate gift boxes create an experience for your prospects that will stand out from the rest.
At Noms we offer a QR code that can be added to your box. Each QR code will direct your prospects to a custom landing page for you to move your prospect through your sales funnel.
Once they open their box and scan their code you can direct them to a page about your product or to schedule an appointment with you. Create a clear path to your product and stay top of mind with a prospecting gift that stands out from the rest.
Physical Gifts or Email - They are Both Sweet!
The best part of Noms corporate gift boxes is that you can have them delivered or send them through email!
Pick the box and send them their gift through email. They open their surprise and input their own address. A cookie gift box gets delivered to their home or office ready to devour and you can still add any customizations you need.
Already know their information? Surprise them and have their gift delivered right to their doorstep.
No matter what delivery method you choose - your clients and employees will know the time and effort you put into their perfect gift.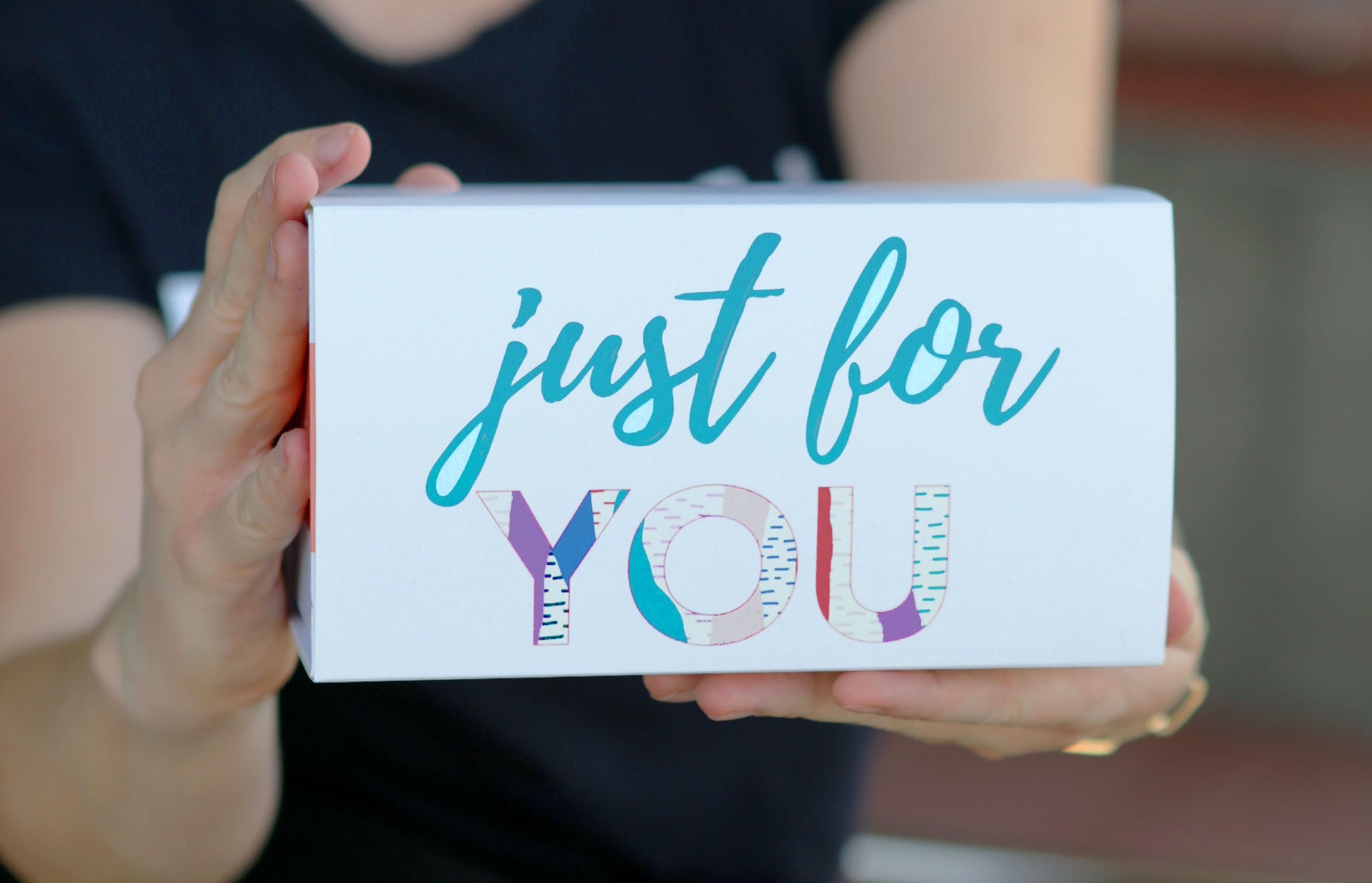 Creating the Perfect Corporate Gift Box
Corporate gifts need to reflect not only the company but the client or employee that is receiving the gift. Noms custom cookie boxes give the freedom and flexibility to create a gift that reflects both. If you add their logo or a design to the box, you can still add yours inside on the custom message.
With Noms, creating the perfect gift for any client or employee in your life is easy and scalable.
Want to learn more about how to use our corporate cookie boxes to prospect new clients? Read our blog, How to Land the Clients You've Always Wanted
Q & A
What do I need to start my Corporate Gift order?
The quickest way to order for everyone on your team or every client on your list is by creating a spreadsheet with their names, email or shipping addresses, and their personal gift messages.
We also have a quick video that walks you through the steps.
What if I do not have a design for my corporate gift boxes?
If you are having trouble with a design we can help! The quickest way to see our fun designs is to speak with one of our team members. They can help walk you through uploading your logo or showing you seasonal or versatile designs we have.
What if I am unsure of the recipient's flavor preferences or allergies?
While Noms can be customized it doesn't have to be by you! If you are unsure of allergies or preferences for each employee or client gift, you can have them choose! When creating your order choose, send through email. An email will be sent to your recipient where they can choose what assortment to receive.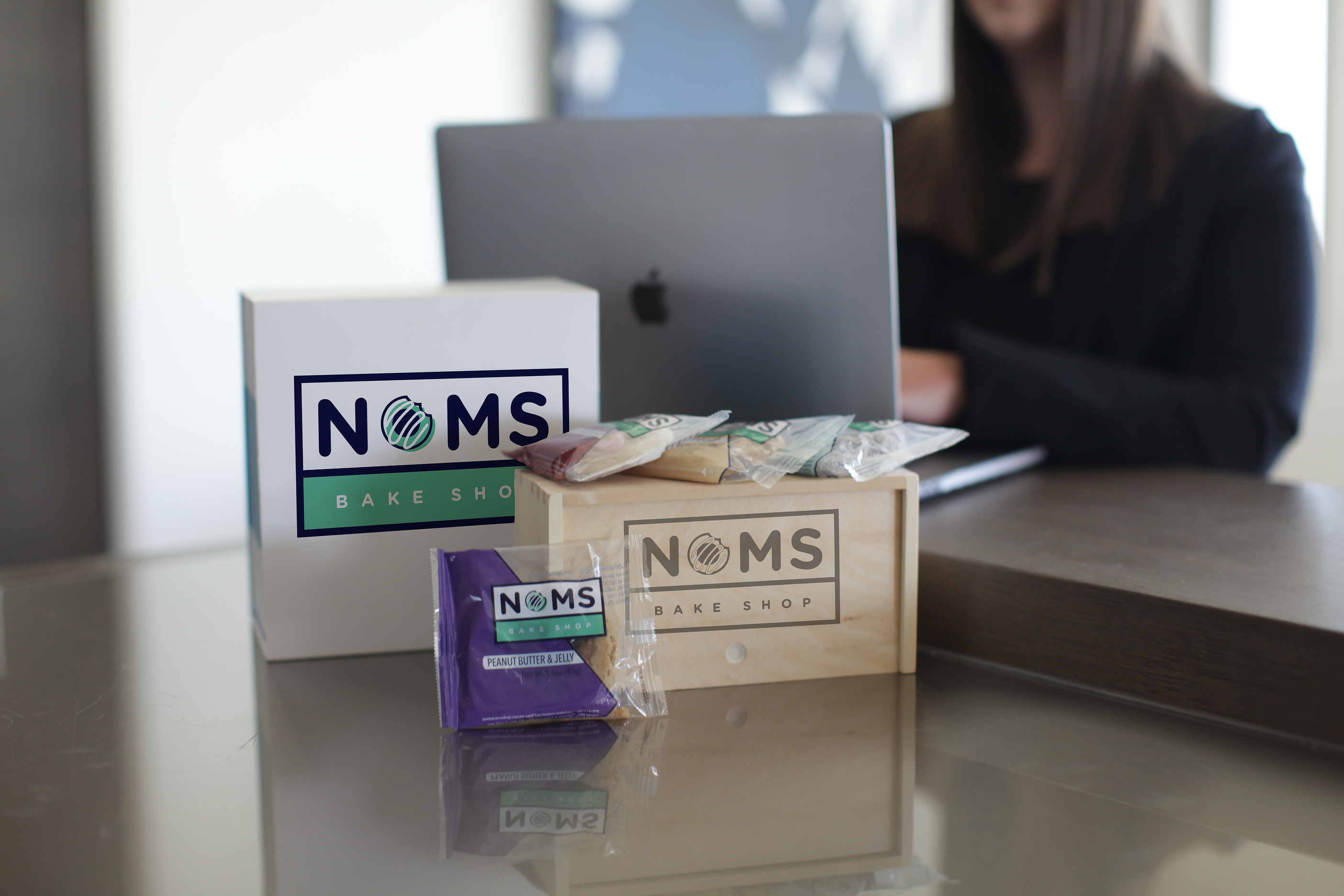 Shower Your Employees With Appreciation
8 ways to say "Thank You" during Employee Appreciation Day