10 Fun Valentine's Day Gifts for Client Appreciation
February 08, 2022
There's Never a Bad Day to Show Your Clients Some Appreciation.

Looking for a fun way to demonstrate client appreciation this Valentine's Day? Check out these 10 great gift ideas! From delicious treats to tech gadgets, classic yet sophisticated items, there's sure to be something here that will put a smile on your clients' faces. So go ahead and spoil them rotten - they deserve it!
Businesses often take a break in late January and early February to assess how they are doing and plan their upcoming year. This is your chance to stay top of mind with your clients. Send a gift and let them know who they can count on this year!
The Power of Sending Client Gifts
It has been found that receiving gifts can be a powerful experience for the receiver. There is even psychology behind it that many of us don't realize! Corporate client gifting, and employee gifting, is a great way to show your appreciation and is a meaningful way to brighten up anyone's day!
According to Sendoso, "Physical contact with a gift results in the Endowment effect—a sense of ownership over an item which translates into an individual valuing it more highly." Sending a client gift, or employee gift can help evoke those feelings we are all after in a sales meeting - trust, connection, and reciprocity.
Choosing the Appropriate Corporate Gift for Valentine's Day
There are important aspects to choosing a Valentine's Day gift for clients. As with any gift, if you want to get the desired effect - like adding a new client or fostering a relationship - you want to choose a gift that they will use and enjoy.
This helps them connect with the gift and associate it with the giver. This again will bring out those feelings of trust, connection, and reciprocity.
The Best Client Gifts are Personalized
As large companies create personalized experiences, clients come to expect that level of personalization from all companies. Personalization is a powerful way to evoke a positive emotional response and make a client feel recognized. With more companies working towards improving personalization, it's the best time to work on tailoring your corporate gifts. 80% of frequent shoppers only shop with brands that personalize the experience. (SmarterHQ) Whether it's employee or client gifts, personalizing your company gifts is a small addition that will make a large impact.
From adding a thoughtful note to client gifts to customized packaging to creating a specialized QR code, you can add these customizations to make your client feel valued and ready to work with you.
Personalization in Each Box
With Noms corporate gift boxes, personalization can be easy! We offer multiple ways to create a cookie gift box that will suit each individual client and make your company gifts stand out. One of the main goals for your corporate client gifts is always staying top of mind, with these personalized gift boxes you can not only reach that goal but exceed it.

Custom Cards for Corporate Gifting
Each Noms box can be a one-of-a-kind experience for your client gifts, starting with a personalized note in each. Add a special note with their name to let them know you care. Not sure what to write? A great note doesn't have to be long, but it does have to be thoughtful. Make sure to include their name or their company name and an appropriate message.
Examples include
Valentine's Day is a great excuse for me to let you know how much we appreciate you. Enjoy your day!

We love what we do because of clients like you. Happy Valentine's Day!

You're one special client! Wishing you a happy Valentine's Day.
Are you wanting to send a gift but don't want to add a personalized message? QR codes give the opportunity to still personalize your gift!
QR Codes & Custom Landing Pages for Corporate Gifts
Whether you're looking to lead clients to your website or just want them wrapped up in something sweet - Noms has got you covered. Our custom message and QR code can be added to any physical gift to create a more humanized, engaging experience for the receiver.
QR codes offer you an improved way to connect with each recipient and drive your marketing efforts. From directing people to a custom landing page to sending them a custom video - QR codes are an easy way to customize your corporate client gifts and impress any client when they open up their cookie box.
Not only are QR codes a fun addition to the clients' experience, but they also provide important tracking abilities for you and your team. These trackable codes provide information on how many visits to your landing page, website, or video were received from the client gifts. For further trackable information, add a call-to-action to give yourself a better insight into your ROI.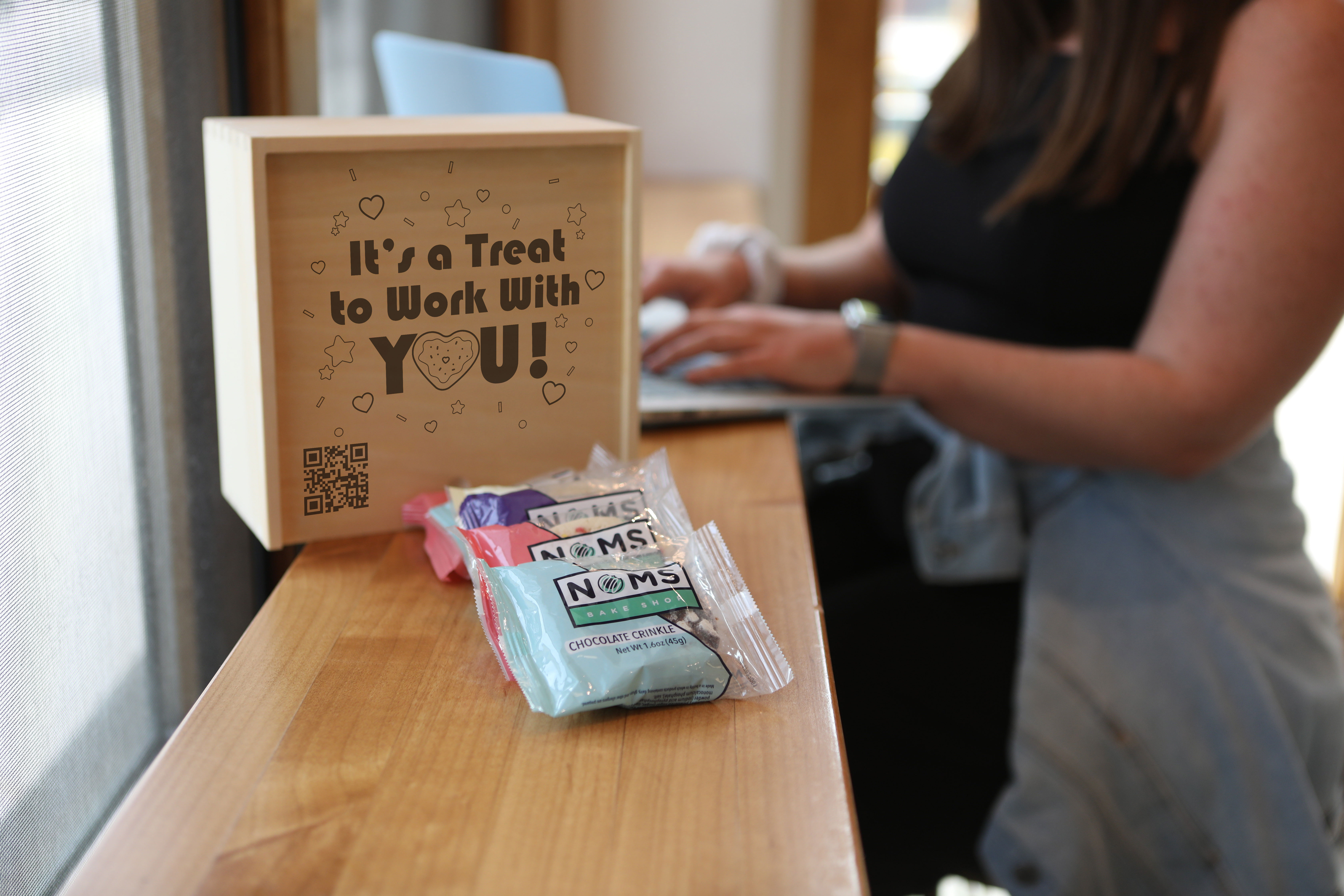 Customizable Landing Page

With QR codes, you can create a customized landing page that gives the perfect opportunity for you to connect with your clients. Are you wanting them to open the box and set up a meeting with you? Or are you driving them to close a sale? Your custom landing page can offer more information about you, your business, or your products to help bring the next step into the palm of their hands. A landing page where they can book an appointment or create their order both streamlines and personalizes the experience for the client to move each one through your sales process faster.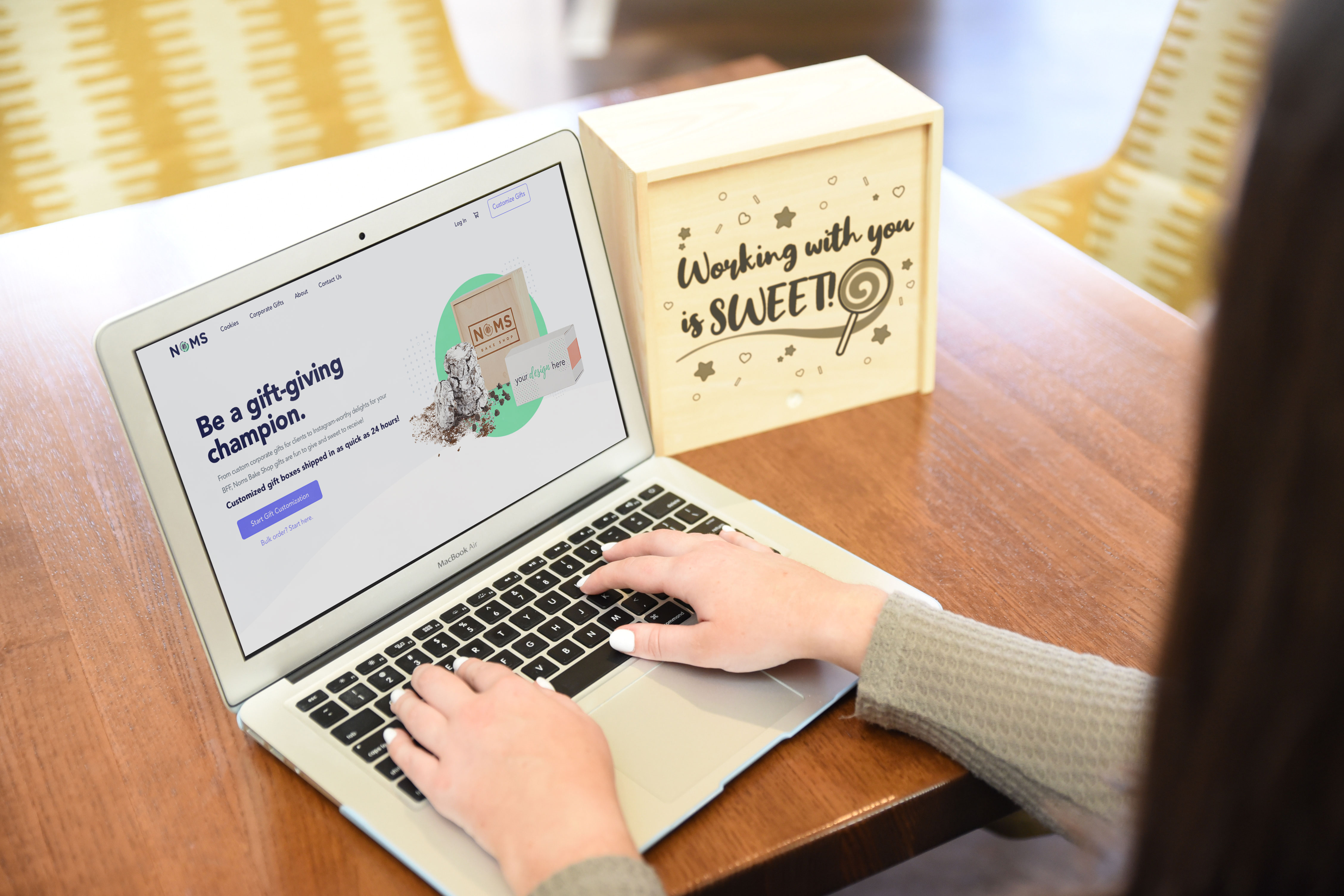 Personalized Videos for Corporate Gifting

Another option to create engaging, personal experiences with your corporate client gifts is using QR codes to open custom videos for your clients. Make group videos or a video for each and every client to make a strong connection with you and your company while they hold a physical gift in their hands.
Personalized videos have been proven to be beneficial and easy to create. According to Videoform, personalized videos can help your message stand out, improve conversion rates, encourage engagement and improve brand trust. The benefits of using a QR code to bring clients to a personalized video will far outweigh the short time it takes to create one and will give you the opportunity to speak directly to your clients while giving your own call to action.

Custom Colored Sleeves Make Your Client's Gift Extra Special

Personalizing your custom cookie box doesn't just happen inside the box! Make a great first impression when your Noms box is delivered with a custom-colored box sleeve.
Noms cookie boxes can be created with your logo, your client's logo, or a beautiful design on the box. Our Noms team can help you create the perfect full-color design to print onto each box to make each one special for your client.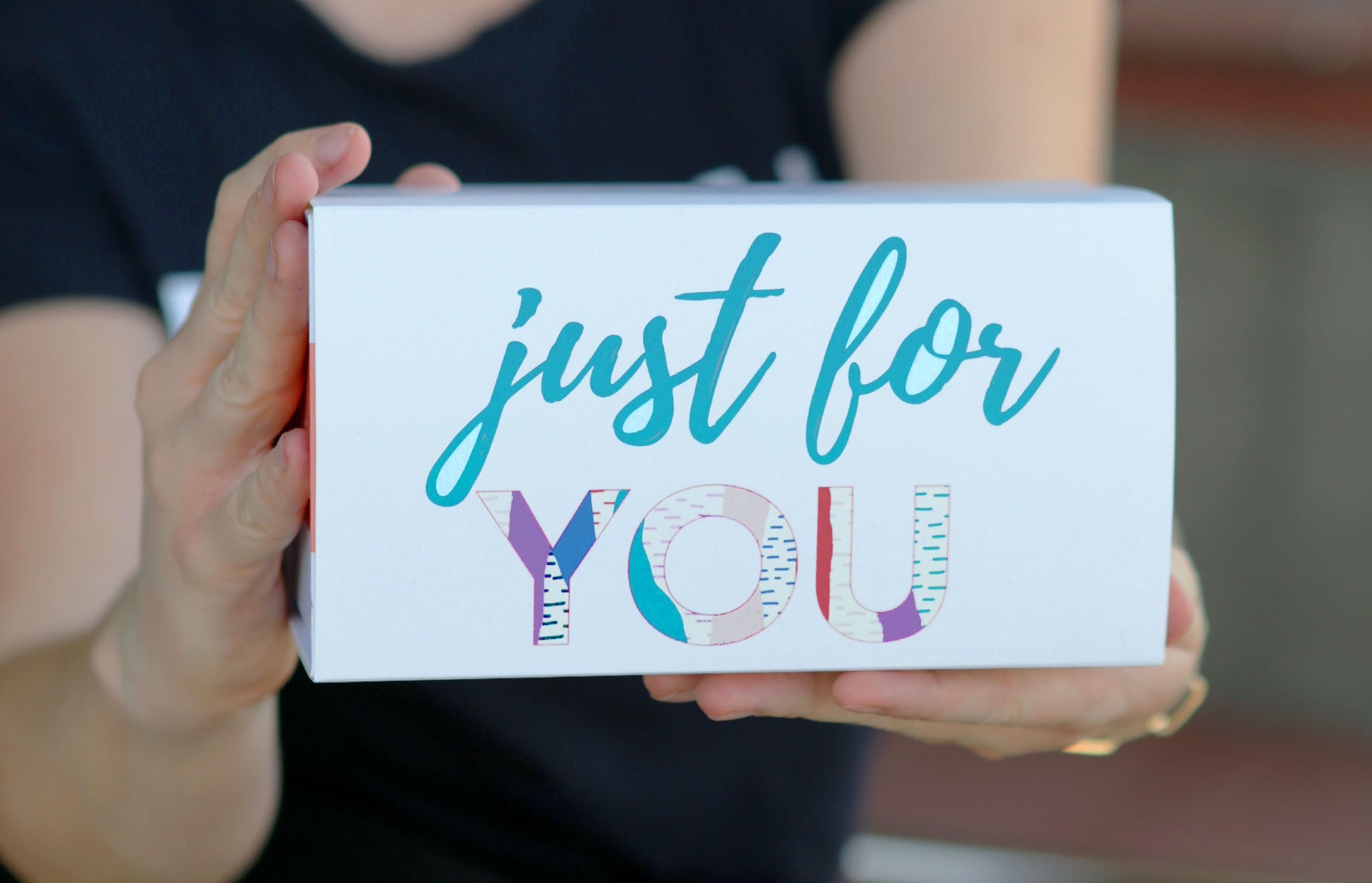 Laser Cut Wood Deluxe Boxes for Client Gifting

You can't go wrong with a sleek, modern presentation that is sure to impress. Our laser-cut wood boxes are perfect for any occasion and will leave your clients happy and interested. The presentation of your company client gifts should make a statement and leave your clients feeling appreciated and ready to call you! Customize a laser-cut wood box with your logo, their logo, or a design of your choice to create a thoughtful gift for your client.

Valentine's Day Gifts for Clients

Counting Down to Our Favorite Client Gift
10. Mug with a specialty coffee or tea - Have you noticed that your client loves to have a coffee on hand through all of your meetings? Show your attention to detail with a mug and sample of luxury coffee or tea.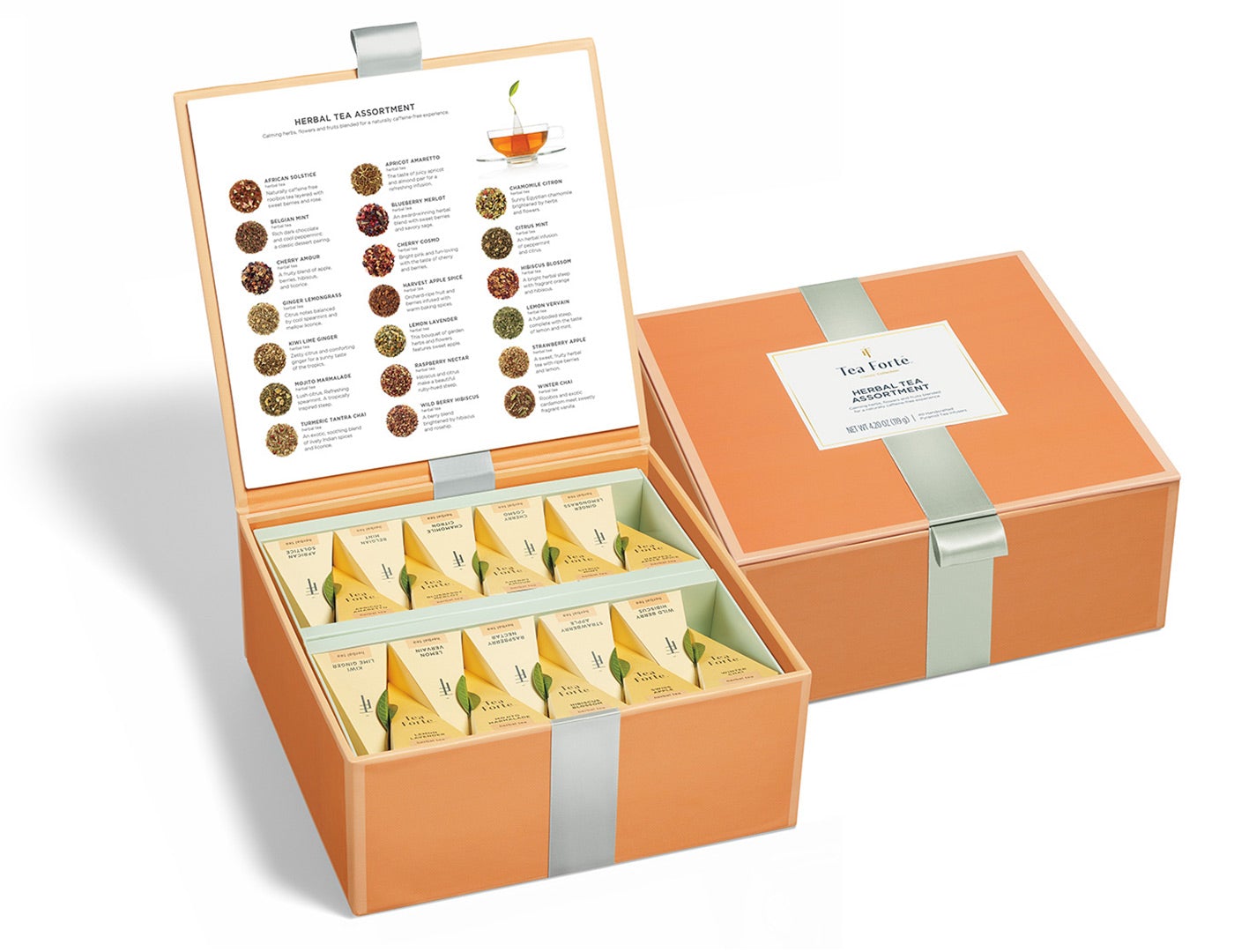 An inspiring book -

Read a great book recently that your client would enjoy too? An inspiring book can be a thoughtful Valentine's gift that many clients will appreciate.

Local Business Gift Basket -

Do you know of some great local spots around your city? Take some time to gather products from your favorite spots and create a local gift basket. At Noms, we love #shopsmall and #supportlocal and many of your clients will too! This can be the perfect idea for employee gifts too!

Wine & Dine -

Do you know one of your client's favorite restaurants or have a good recommendation? Give a night of wining and dining with a gift card and bottle of wine sent to their office.

Mixology Kit

- Looking for something a little more personal to send? Try a mixology kit. This can be a fun way to connect with the client and gives you a great talking point next time you see them.

The Latest Tech & Accessories -

Do you have a client all about tech? Tech-focused gift choices are endless. One option for the tech lover can be a custom AirPod case. The personalization of an AirPods case lets them never mistake their pair for another again.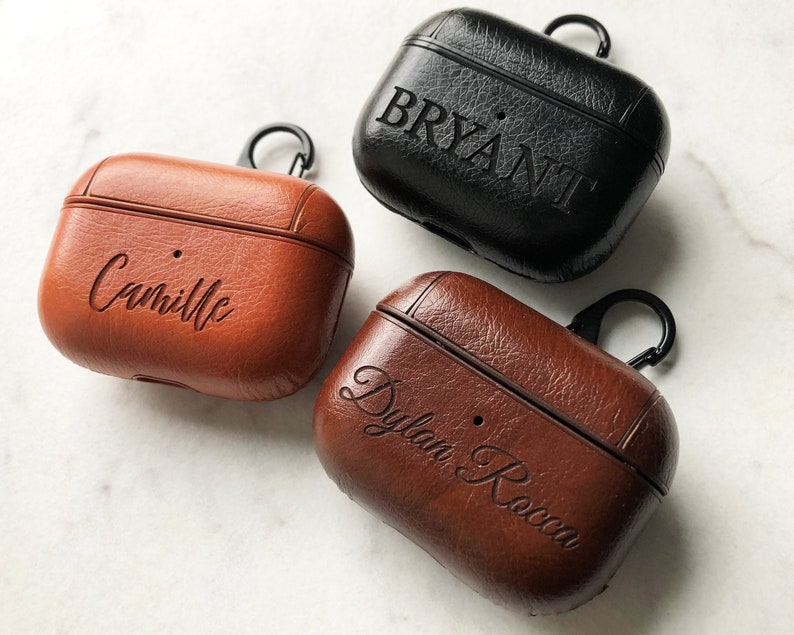 Gift Cards -

An easy, go-to gift for many. While gift cards can be a last-minute gift, they can still be personable! Choose a place that you may recommend, or somewhere you know your client frequents. Do they stop for a coffee or a bagel every morning? Show you were listening with a gift card to their favorite shop. If you are looking into employee gifting this year, this is a great gift to show your employees you care.

Masterclass Membership -

Give your client access to unlimited classes taught by those that are in the top of their field. From cooking to writing to basketball - your client can learn about any subject they are interested in. On-demand courses give your client the freedom and flexibility to enrich their lives and not forget the person who gave that to them.

Golf Outing -

Looking for something more personal? Or maybe you need a chance to spend time with the client, or potential client. A golf outing can be a great way for you to pitch your company or solidify a relationship with the client. Get to know them away from the office and create a long-lasting business relationship.

Custom Cookie Box -

Noms custom cookie gift boxes are a great way to wow your clients with a delicious treat! Personalized packaging and picking the perfect assortment for your client shows how much you appreciate each one.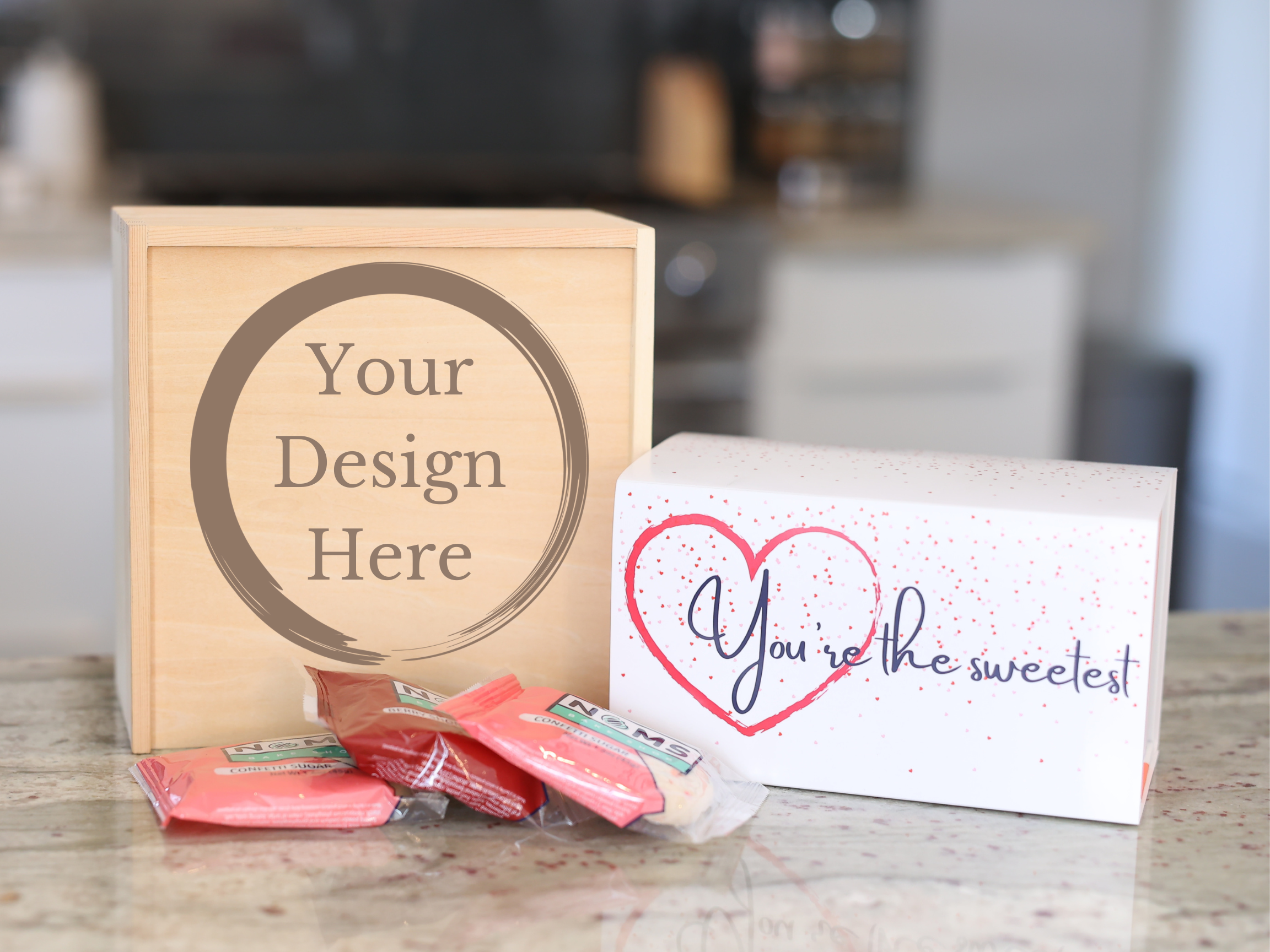 Send a Personalized Client Gift for Valentine's Day Today
Valentine's Day is quickly approaching and that means it's time to start thinking about what gift you'll be giving your clients. Our list of 10 items gives you something for everyone! From cookies to tech, we've got your corporate client gifts covered! You don't have to stop there - we can also help with thoughtful employee gifts. So go ahead and show your clients some love this Valentine's Day with thoughtful gifts that will put a smile on their faces and foster strong relationships this year.
Check Out Noms' Customizable Gifts
Need last-minute, easy-to-customize gifts that your clients will love? Reach out to our team to help create personalized, thoughtful, and delicious gifts for every client in your life in minutes!
8 ways to say "Thank You" during Employee Appreciation Day
How to Win Employee Appreciation Day in 2022